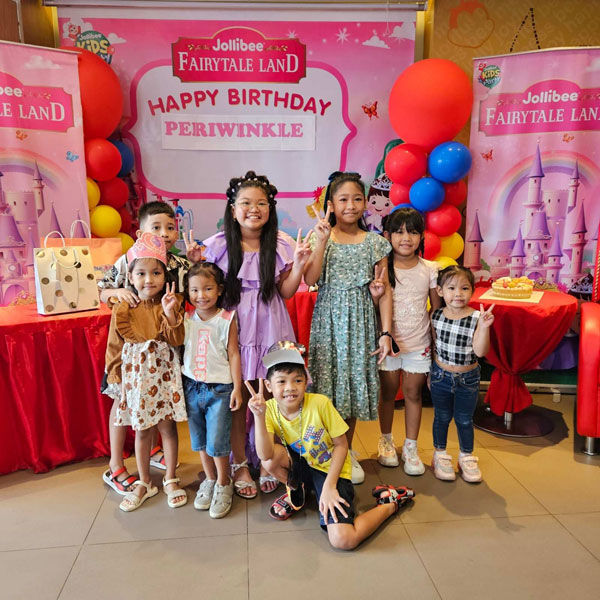 Last June 25th, Twinkle had a memorable 8th birthday celebration imaginable with a Jollibee birthday party experience. It was a day filled with joy, endless laughter, and unforgettable moments. Twinkle had been yearning for a Jollibee birthday party, but due to the unfortunate circumstances brought about
by the pandemic, her dreams seemed out of reach. However, on her actual birthday, to her absolute delight, we were able to make her Jollibee party dreams come true, and it was a celebration that exceeded all expectations.
Since the last Jollibee birthday party, we had was for Ykaie's 9th birthday. We were unaware that the packages had changed since then, despite that we were able to personalize the festivities to perfectly match Twinkle's interests and desires.
One of the highlights of the party was undoubtedly the incredible array of fun-filled activities organized by the exceptional Jollibee team. The children enjoyed in every interactive game, danced along to their favorite children's songs, and were even treated to an question and answer session. The Jollibee party hosts ensured the energy levels remained sky-high throughout the event, ensuring Twinkle and her friends were fully entertained. And when Jollibee himself made an appearance, mesmerizing everyone with his infectious dance moves, the party atmosphere soared to new heights of excitement.
No Jollibee party would be complete without the food that they are renowned for. We opted for a party package that included a assortment of Jollibee's all-time favorites. From the irresistible Chickenjoy with rice to the sweet Chocolate Sundae, the crispy French Fries, and of course, the iconic Jolly Spaghetti. Twinkle and her friends simply couldn't get enough, and the laughter that accompanied every delicious bite was priceless.
Throughout the entire celebration, we couldn't help but be amazed by the energy and attentive service provided by the Jollibee team. From the invitations and colorful decorations to the charming party hats and delightful loot bags, every single detail was thoughtfully taken care of. This allowed us, as parents, to relax and fully immerse ourselves in the joy of the day, creating beautiful memories alongside our beloved daughter.
Twinkle's 8th birthday party at Jollibee was an extraordinary experience that will forever hold a special place in our hearts. The combination of Jollibee's beloved mascot, engaging activities, delicious food, and seamless planning made it a great success that captivated both children and adults alike. The sheer delight radiating from Twinkle's face and the infectious laughter that resonated throughout the venue was truly priceless, making this celebration a cherished memory we will treasure always.