Raon a place where you can find anything your heart desire. All you need to do is ask. Raon is where you can find Electronic gadgets raging from speakers, videoke system, amplifiers, home theater, cables and sockets, Cameras, CCTV and power tools. To Dental equipment, prescription glasses and Musical instrument. All of this you can buy at a bargain price.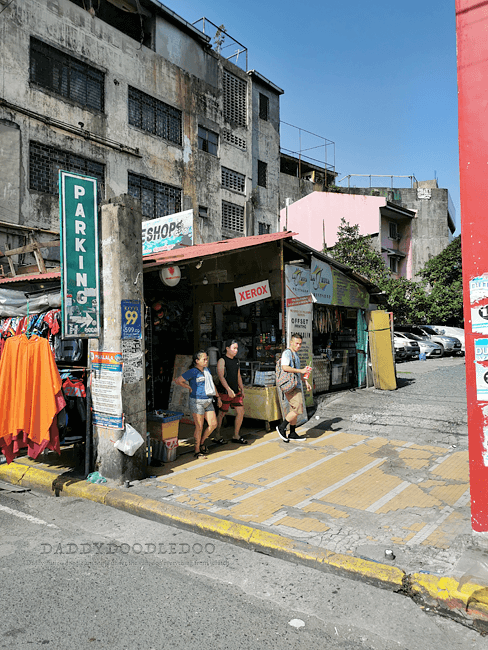 For the longest time I wanted to go to Raon. And buy something I need to get my daughters old electric car running again. But I keep hesitating because of the availability or lack of parking in the area. Until one day while visiting The Minor Basilica of the Black Nazarene, I discovered a parking space near that area.
Location 
Just across the street from Raon and The Basilica of the Black Nazarene is a almost hidden parking space. Nestled between shops it is only visible because of a lone sign the says Parking. And once you do see it, you need to be careful in entering there are pedestrians crossing the busy sidewalk.
If you are coming from Quezon bridge, you need to look at your right side. Look for a green building just after a foot bridge, the entrance should be just besides it.
If you are coming from España you need to make a U turn under the Quezon bridge, then look for that green building after a foot bridge.
Crossing the road to go to Raon or the basilica should be easy because the parking area is accessible via footbridge. Security is okay, a security guard is at the entrance of the vicinity. Looking around inside I was surrounded by walls, It made me feel secure knowing that when I am gone, there will be no loiterers nosing around my car.
Parking rates are affordable, I would say normal rates apply here. But you better come early or be patient this parking space is also popular to the delivery vans and people who buy and sell stuff. So some vehicles here may stay for a long time.
There is another plus for this parking space, it is also very near those popular bike shops. (King's Bicycle store, CycleArt, Bisekleta, Clark Lane, Decimal and others)
If you are into Mountain bikes and Road bikes or just wanted to get a bike for the family. This is where you want to park, I heard bike shops here offer the cheapest price. But better know what you want to buy and set a budget, because sales persons here will get you hook and leave you emptying your wallet.
As a Filipino we are use to fake items being sold or pass as original. BE very vigilant when shopping in this area, don't buy something if it doesn't look right. Just to be safe buy from legit shops not those you will find on the streets.
For other parking spaces here are links:
https://www.daddydoodledoo.com/2019/08/where-to-park-at-quiapo-2-quinta-market-parking/
https://www.daddydoodledoo.com/2015/06/where-to-park-in-quiapo/
https://www.daddydoodledoo.com/2017/05/where-to-park-when-going-to-168-mall-divisoria/