"Manila, Manila I keep coming back to Manila, There is no place like Manila.Manila I'm coming home". As this classic song goes, here I am with another post about parking near Quiapo or Minor Basilica of the Black Nazarene. I already mentioned in my last post about my devotion to the Black Nazarene (Old post). I promised to you that I would write about another parking space in the same area. Here I am fulfilling my promise.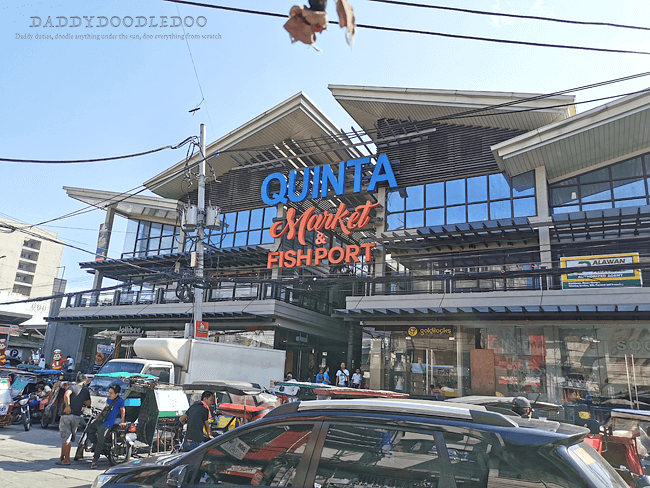 Quinta market is a famous old market in Manila, located along Carlos Palanca street. It is not very far from the Basilica about 200 m or a 10 minute walk, malapit lang hindi pa pagpapawisan ang kili-kili mo. Besides that it is near Quiapo, This parking space is also near some culinary gem in the area. Like Master Hopia, masarap ang Hopiang Baboy nila promise. At saka Exelente famoso naman dito ung ham, pinipilahan ito lalo na kapag pasko.
Quinta market was renovated during Mayor President Eraps time. And now it is all over the news because of its issue with money. The parking space of Quinta market is located at the second floor of the building. Its entrance is at the side of the structure. You can actually miss it if you are not looking for it.
How to get there.
If you're coming from Quezon Blvd. you will pass Quiapo church on the right. Take the service road besides the bridge, go straight and you will find the entrance of the parking in front of you.
If you are coming from Carlos Palanca street, Quinta market would be on your right and the entrance to the parking would be at the end of the building.
Parking rate is very reasonable, hindi katulad ng parking sa Uptown Mall BGC ginto. Spaces for car parking is normal, park in between cars and you will not have any problem opening doors both sides.
Leaving your car is no problem there is security roaming the area. But at any parking space do not leave any valuables inside your car, it is better safe than sorry.
There is another parking space across the street from The Minor Basilica for the Black Nazarene. It is near Raon and also the famous bike shops in the area, Next on the blog.
For more parking spaces here are some links:
https://www.daddydoodledoo.com/2019/08/where-to-park-in-quiapo-near-raon-and-bike-shops/
https://www.daddydoodledoo.com/2015/06/where-to-park-in-quiapo/
https://www.daddydoodledoo.com/2017/05/where-to-park-when-going-to-168-mall-divisoria/
https://www.daddydoodledoo.com/2019/06/parking-at-padre-pio-shrine-santo-tomas-batangas/
https://www.daddydoodledoo.com/2015/12/parking-spaces-ortigas-amethyst-st-pearl-dr/