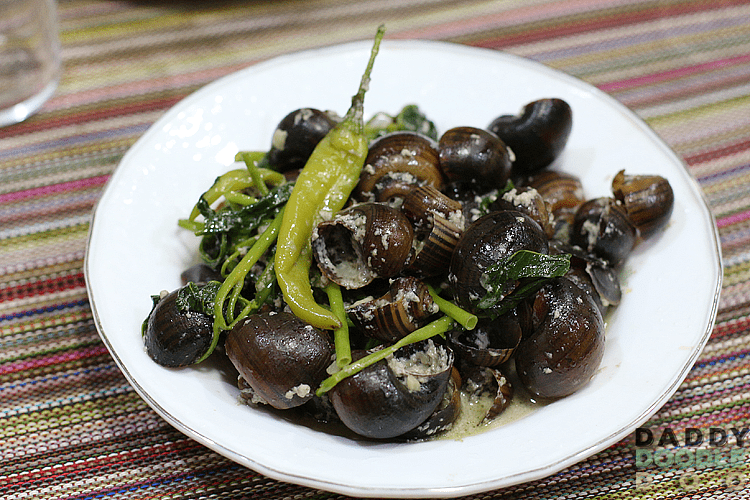 Escargot anyone? One morning I had a chance encounter with one local vendor who sells snails. It was fresh and cheap so I asked my wife if she was planning something for lunch. I always ask the Boss, of course…  Happy wife Happy life as they say. Good thing she doesn't have a plan yet for our lunch that day. I bought 1 kilo for 60 pesos then went to the local market to purchase freshly squeezed coconut cream, finger chili, and water spinach ((kang kong).
Sorry for not including the exact measurement or quantity of the ingredients. It was my first try and I just had to make a good estimate.
Since I have all the the ingredients, its time to prepare the snails. First you need to soak the snails in clean water for a about 2 hours to let them spit out any unpleasant goo or mud that they still have in their system. You need to change the water once in a while. Next you need to crack the back of the shell for easy access to the meat after cooking. My daughter Purple was very eager to help on this task and I gladly obliged. Now back to the cooking, make sure to clean the snails thoroughly. Sauté the snails in garlic and ginger then add the 2nd squeeze of coconut. (I asked the local vendor to squeeze the coconut twice which they would gladly do for just a cheap price.) Leave to boil in low heat. Then add the coconut cream (kakang gata). Bring it to a boil and add the Kang kong and Chili fingers. Simmer for a couple of minutes, just until the kang kong wilts. It is now ready to serve.
It's best enjoyed eating with your bare hands and a piece of stick (or tooth pick) for picking the meat out of the shell.
P.S.
Nest time I will cook a series of food best paired with beer.