Who could forget the landlines? Those copper wires meandering through our houses fitted in fancy analog handsets. They gave us all a medium to talk to our loved ones and to share our feelings while living miles apart. Landlines marked the start of a communication revolution that we are all witnessing right now. But like any other technology, they were frustrating at times. The bills were expensive and one heavy rain meant that services would remain suspended.
Then came the internet which totally changed the way we communicate. VoIP services were the one responsible for that change. Because they were cheap and offered faster technology, people started using these online services. Since then, we have never looked back and are now reliant on our smartphones. But VoIP services have still not lost their charm. They are still used at homes and there are some best VoIP service providers especially helpful for those who want to have a residential number or look to start their business.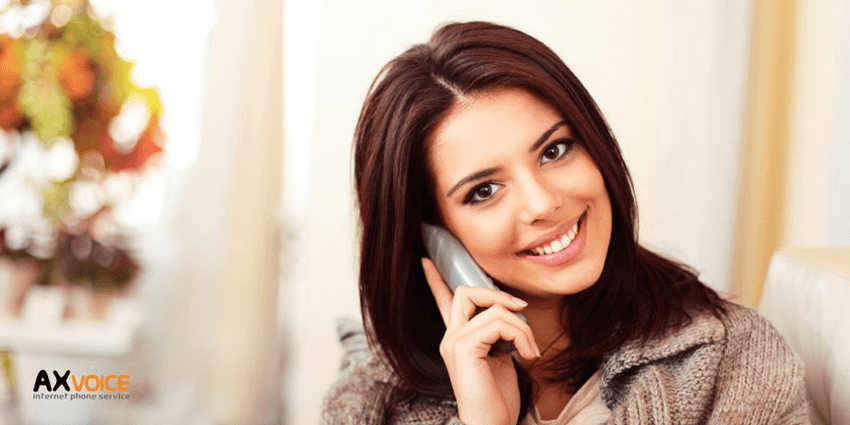 But if you are still a landline user, I have a viable landline replacement for you with AXvoice residential VoIP service.
Why opt for a residential VoIP service?
A Voice over IP (VoIP) service uses the internet for calling people. It is great for both home and business use. The biggest advantage of a VoIP over the landline is the better voice-calling technology that's clear with negligible reception issues. Yet, the best thing is the amount of money you save by using a VoIP service. The calling features or services that accompany these VoIP services are simply unmatchable if you consider the ones that come with a landline connection. Additionally, most of these services are free that are usually paid in case of a landline connection. You are free from paying any taxes, service charges, or occasional "hidden" expenses that are associated with a landline bill. Moreover, you can use the VoIP service on your smartphone as well.
All the above-discussed facts are what I found in Axvoice and now I will be reviewing this Axvoice in detail.
Getting Started with AXvoice
Another reason why residential VoIP service is popular for calling is the ease of using it. Any user can do this. There is no software set up. Here are simple requirements for setting up AXvoice VoIP at your home.
AXvoice VoIP adapter
Analog Phone
Internet Router
Ethernet Cable
After you sign up for the Axvoice VoIP residential service, you will receive a VoIP adapter from them. This is a plug and play adapter that does not require installation. What you need to do is to attach this adapter with the modem router at your home using the Ethernet cable. After you connect the adapter with your internet, now connect it to the landline set at your home.
AXvoice Calling Features
The best VoIP service providers offer tons of calling features at no extra charge. When you subscribe to Axvoice, you get some nifty calling features. They are categorized into three groups. Following are some notable mentions.
Outbound Call Features
International call blocking: No one wants to pay over the limits for any service they use. International calls often make up the major chunk of our monthly bill. You can cut your bill by blocking the international outgoing calls other than the U.S. and Canada by using this feature of Axvoice residential VoIP service.
Caller ID blocking: Some people don't want to reveal their phone number especially if they use the same for residential and business purpose. For those or for any Axvoice user, they can disable their caller ID from showing up on the recipient's phone using this feature.
E911 support: A particular feature to be used for emergency situations. Dialing 911 from your Axvoice phone will automatically alert the emergency authorities about your location.
Three-way calling: Another name for conference calls. Add a new participant any time during a call using this feature. Similarly, you can drop any participant without disconnecting the call.
Inbound Call Features
Simultaneous ring: While we are busy on the phone with a friend or family, someone else might have something important to tell you over the phone. Axvoice allows you to set up to 3 numbers for receiving your calls in case your number is busy so that you never miss out on important client calls.
Anonymous call rejection: Suppose you are in the middle of something important and don't want to attend a call from an unknown number, this feature jumps for your help and blocks the call from any such number.
Call Filter: If you want that certain important calls or family phone numbers be directed to your personal cell phone then your residential VoIP service's call filter will direct all those calls from your VoIP phone to your cell phone number.
Advanced Features
Failover calls: This is a service that is useful when the internet is down. This will route the incoming call to your desired landline number.
Softphone support: You can use your AXvoice service on your smartphone through its softphone support. You can download a softphone software on your cell phone or computer and as many calls as you like.
Free in-network calling: if you have more than one connections at your business or in your social circle, you can make unlimited calls to them without paying anything extra.
Virtual Number: This is an optional feature other than the free features mentioned above. You can choose to add an additional number to your account by paying just $3.99 per month
AXvoice Packages and Plans
Besides offering numerous calling features and better voice quality, VoIP services are a great way of saving money. Be it business or home use, the amount that you save can be substantial depending upon your phone use. Axvoice residential VoIP service also offers some very attractive VoIP residential plans for home users. Here are their details.
Pay As You Go: This is the most basic VoIP calling plan under the residential category. But even this package has many positive features. All the incoming calls in this package are free. Though most of the services offer free incoming calls, there are many that still charge for incoming calls as well. There are no free minutes in this package, but you get all the standard calling features with this package. The cost of this plan is just $4.99 per month while all the regular calls to anywhere in the US and Canada are charged at 1.5c per minute.
US/Canada 200: The next upgrade to the Pay As You Go plan is the US/Canada 200 VoIP calling plan. The only feature that makes the difference in this package is that you get 200 free minutes to call anywhere in the US and Canada by paying just one dollar more than the previous plan. So the price of this plan is only $5.99 per month. Any other call after the consumption of free minutes is charged at 1.5c per minute.
US/Canada Unlimited: This is the ultimate residential VoIP calling package. The best feature is that you can make as many calls as you want to anywhere in US and Canada. There are no per minute charges or any limit of free minutes. All you need to do is to pay the monthly charges and you are good to go. The monthly charges for the unlimited plan are $8.25 when you subscribe for a yearly package.
International calling
A VoIP service without international calling will be a huge letdown. Because cellular and landline charges for international calling are often expensive, Axvoice residential VoIP service offers a couple of international calling plans for those who have their loved ones living outside the US and Canada. Here are their details.
Residential international: This package covers more than 45 international destinations. Once you subscribe for this package, you can make unlimited calls to these countries without paying anything extra. The monthly cost of this package is $16.68.
Residential international plus: This package offers international calling to more than 60 international destinations. There is no limit of minutes in this plan. You can get this plan for $29.99 per month.
Following is a table showing the details of all the plans.
Axvoice Calling Packages
Calling Plans
Per Minute Charges
Free Minutes
Price per month

Residential

Pay As You Go
1.5c
N/A
$4.99
US/Canada 200
1.5c
200
$5.99
US/Canada Unlimited
Unlimited
Unlimited
$8.25

International

Residential International
Unlimited calls to 45+ destinations
$16.68
Residential International Plus
Unlimited calls to 60+ destinations
$29.99
After going through all the features and services of Axvoice residential VoIP service, one can easily have an idea of how VoIP calling is the better way of calling than the conventional landline service. All that besides saving a good amount on your calling expenses. The soon you do away with your landline service, the early you would be enjoying more features and saving substantially.