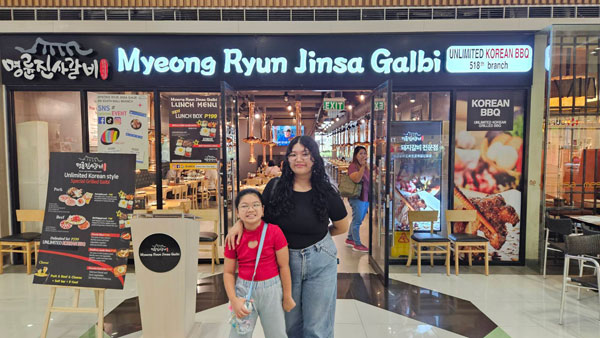 Korean BBQ restaurants are sprouting all over Philippines like mushrooms after a rainy day. It truly shows how Filipinos love to eat and grill meat the Korean way. Like most Filipinos we also love to eat at a Korean BBQ occasionally. My daughters often request us to eat at a Korean BBQ, if the budget permits us. So, we have tried out our own share of different Korean BBQ grill restaurants around the metro. And just recently we tried Myeong Ryun Jinsa Galbi in SM southmall, it was a notable experience for me. It was the first time I had eaten in a Korean restaurant full of actual Koreans. And in my humble opinion, if the people from where the cuisine came from are patronizing the restaurant it's a testament of that restaurant's authenticity.  
The Menu
Myeong Ryun Jinsa Galbi has an Unlimited set of pork, beef, and cheese + Self served side dish bar = K-Food unlimited set for ₱599 per person. They also have a Special lunch menu set for ₱199. You can choose from Pork galbi Lunch Set and Bulgogi Lunch Set which includes rice, kimchi, radish, mashed potato, japchae or Korean fish cake.
The Food
The beef and pork are premium quality, they also offer marinated beef and pork that were absolute delight. My favorite was the self-serve side dish bar, I couldn't get enough of their home-made kimchi. Also worth mentioning are their fish cake and mashed potato. Aside from the beef and pork you could also grill vegetables such as corn, carrots, tteokbokki and chili. You could also have not stopped refill of sliced onion and garlic. Also at the bar are sauces like gochujang, ssamjang, and sesame oil.
Copy cat
I was glancing over at the Koreans sitting at the adjacent table to see if they were enjoying their meal. They seemed to be having a great time. I even noticed one of them adding the special sauce to the sliced onions on their plate, so I decided to give it a try myself.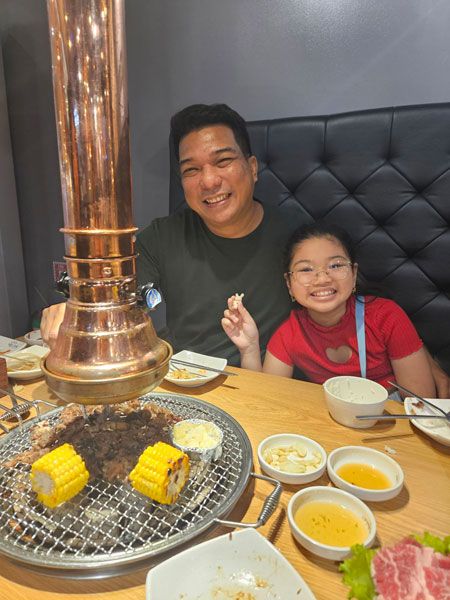 It was a delightful experience for me and the family. Even the kids approved of Myeong Ryun Jinsa Galbi, they even requested that we go to their SM North Edsa branch in our next Korean BBQ eat out.