Traffic, traffic, traffic. This is the normal site in any road inside Mega Manila. It does not matter if you are rich or poor, if you have a car or not. Traffic affects all of us. According to a JICA (Japan International Cooperation Agency) study in partnership with NEDA (National Economic Development Authority). The Philippines is losing P3.5 billion pesos a day because of traffic congestion. The study focus on the economic horrors that traffic brings. It does not discussed the impact of traffic to a person socially, emotionally and psychologically.
To give you a perspective, we live in Caloocan city it is just 23.2 km away from Bonifacio global city (BGC), without traffic it should just take us half an hour in a car to get there. But in a normal traffic day it takes us two and half hour or more to traverse the congested roads to get to BGC. Frustrating isn't it?!
I know you have enough about this in the news or simply do not care anymore. But let me tell how we beat traffic just the other week.
Acceptance is the key. Even if I used WAZE I could not beat traffic, so I accepted that fact that traffic is everywhere. Last week we had a family event in BGC. Ykaie had a recital for her PROMIL four I-shine 7 Art camp. The event lasted five hours and was held in SM Aura convention center inside BGC. The event kicked off at 1 pm and ended 6 pm. After the event everyone was exhausted and just wanted to lay down and relax. But we know that we needed to brave the traffic before we could get to home. I forgot to mention the event took place on a Friday night, Carmageddon!. Our option was to look for some place to spend the night.
If you haven't been in BGC, there are several hotels inside BGC but no MOTELS or low cost hotels. We just wanted a place to spend the night and rest. We wanted something easy to book, quick to checking in, near/inside BGC, clean bed and bath, low cost and safe for a family of four.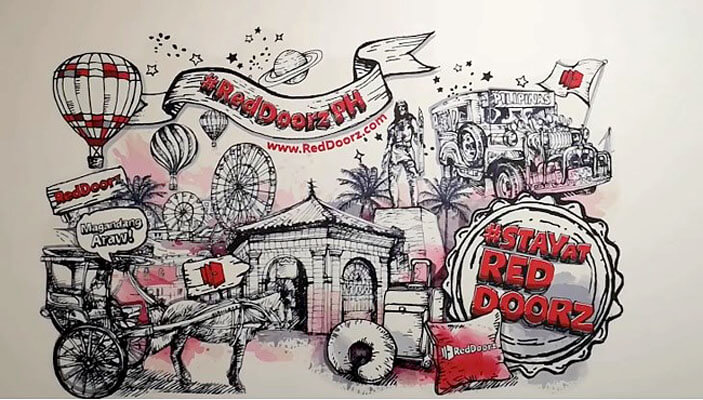 Our answer was Red Doorz. It was our first time to try Red Doorz. We downloaded the App and started to find a place inside BGC. There was a several options for us, we choose the one nearest to us. Red Doorz manages  flats/condominium units, they maintain cleanliness, provide toiletries and towels, and furnish of each unit. Red Doorz has an App for android phones and Iphones, it is free, easy to use and convenient. Base from our experience booking was easy and fast. Payment is also convenient there a several option to choose from.  After booking you just need to go to the building and meet a representative of Red Doorz in the lobby. They will help escort you to your room and give you some pointers.
Here is a video of our stay:
To download Red Doorz App click here Red Doorz
Red Doorz have units around Metro Manila, Tagaytay, Pampanga, and Metro Cebu. Red Doorz is also located in Singapore, Indonesia and Vietnam.
For inquiries you can contact them here