Another budget ulam recipe that will certainly impress your budget conscious partner. Gising-gising has many varieties, this version uses Sigarilyas in Tagalog or Winged Beans in English. It is a great side dish for anything grilled or fried. For me it is best paired with grilled fish, the creaminess of the Gata or coconut milk is just perfect with the smokiness of the grilled fish.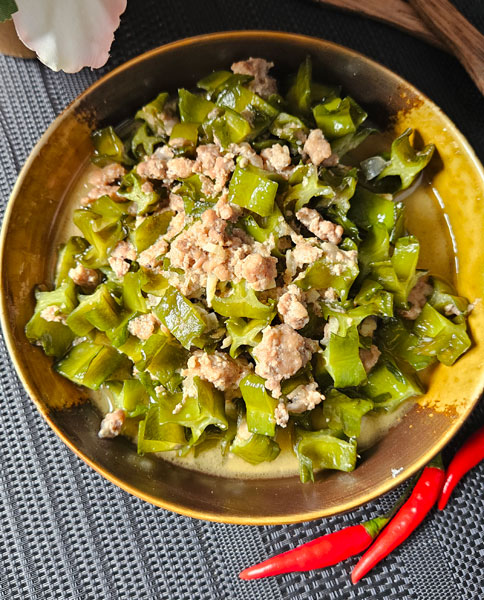 Since it is Monday today, it is my turn to cook. I wanted to give my wife The Peach Kitchen time to rest. So, I woke up early and went to the market. I had no idea what to cook, I usually decide what to cook once I'm at the market looking at the fresh produce that day. Today I saw that the Sigarilyas was fresh, plus I remembered that I have some ground pork left over back at the freezer. I decided to get 3 bundles of Sigarilyas and some freshly juiced Gata. Afterwards went to the fish section and got 2 pieces of Pampano to be grilled. I only bought 2 since the kids are at school and it was just me and my wife who will share this meal.
Ingredients
3 bundles of Sigarilyas
1 freshly juiced Gata squeezed twice
¼ kg of ground Pork
3 gloves of Garlic
1 Onion
Instructions
Chopped the Sigarilyas into small sizes.
Chopped your Garlic and Onion.
Stir fry your Garlic and Onion.
Add your ground Beef. Stir fry until golden brown.
Add your first squeeze Gata. Wait for it to simmer.
Add your Sigarilyas.
Simmer for 15 minutes.
Add the second squeeze Gata.
Gising-gising is supposed to be spicy by adding Long-chili, but my wife could not eat spicy food. By the way Gising-gising is a Tagalog term for Awake because you supposed to feel the spiciness of the dish making you wide awake. Simple yet flavorful if you like creamy spicy food you will surely love this dish.