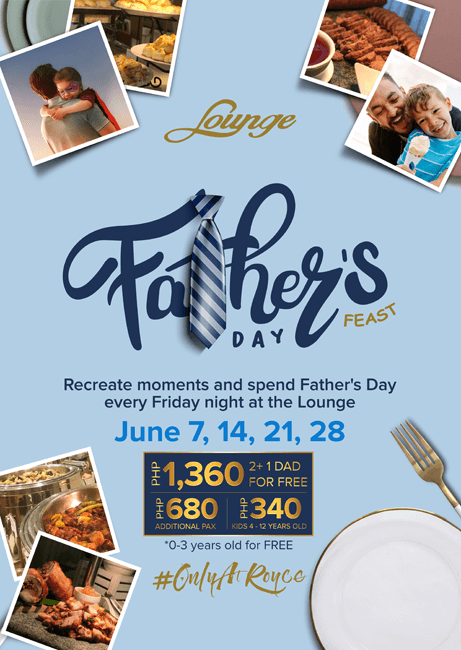 With so many things changing in today's fast-paced world, even the roles within the family are evolving rapidly. Gone are the days when Dads are stereotyped as the necktie-wearing bread-winners of the family, strict disciplinarians, emotionally detached parents whose love language is providing financial and material needs of everyone at home.
Like everything else, the Father Figure of before has now evolved into Father Figure 2.0. New generation Dads are now very much involved when it comes to caring for their children. Showing emotions, being vulnerable and hands-on with raising the kids are now socially acceptable norms. From playing basketball with his son to braiding his little girl's hair, a Dad will always be there for his children.
Whether you have a first generation Dad or a Father Figure 2.0, what's important is showing them how thankful you are and how much you appreciate them for being the pillar in your life. Celebrate Dads every Friday night of June #OnlyAtRoyce!
Partake in the sumptuous Father's Day Feast at the Lounge on June 7, 14, 21 and 28. Buffet starts at 6pm. For only Php1,360 you'll have a feast for two (2) and FREE for Dad. Additional charge per person is Php680, Php 340 for kids 4-12 years of age.
For inquiries and reservations, call +63 917 150 0276, +63 917 499 7888, or +63 45 499 7888.
To learn more about Royce Hotel and Casino, visit https://www.roycehotelcasino.com or like @royceclarkPH on Facebook and Instagram.