Parenting is not an easy feat, especially in the face of a pandemic. Daily routines have been changed and everyone has had to adapt to a life spent inside the home. But if there's a silver lining to this new reality, it is that families have been able to spend more time playing with their little ones, sharing stories, and doing other activities together at home.
For the food blogger and loving mom of two, Mommy Peachy Adarne has been enjoying her home life with the company of her active and playful kids. But like any other mom, she has found that parenting during a crisis is difficult as she has to become a source of comfort for her kids and ensure an environment where they can grow up safely and healthily.
A Test of Panalo Parenting
Mommy Peachy believes in letting her kids learn through experiences. However, there's only so much that they can do indoors and often have to rely on technology to keep them entertained at home.
Gone are the days where they can go out as a family to visit new places and try exciting outdoor activities. Now, she says, "The kids are more inclined to play with gadgets because we are all encouraged to stay at home. So, we watch movies, dance and play games in our living room together."
Mommy Peachy also knows how important it is to get the little ones moving and learning new skills at home. She shares her passion for food with her children as they spend time cooking and baking in their kitchen. She also keeps them excited and exercises their creativity through arts and crafts activities.
But if there is one thing that worries her as a mom, it is the health of her children in these unsafe and uncertain times. She shares, "I want my kids to experience the freedom of going out and traveling wherever they want. But right now, it is my wish and priority that they grow up strong, healthy, BIBo, and happy."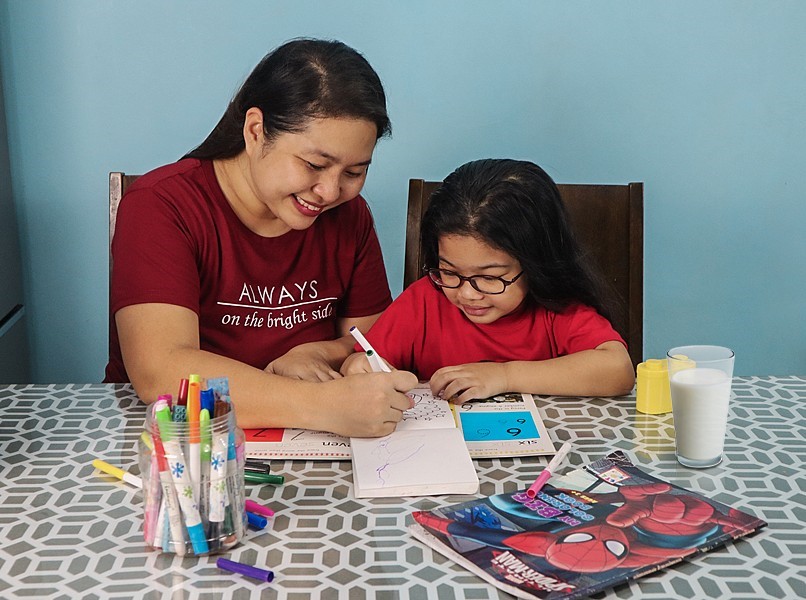 Ready for the Future
With two growing children in the family, Mommy Peachy takes extra care of their nutrition to support their proper development as well as to keep their immune system strong.
"A strong immunity is very important especially today where there are various diseases. You don't want your kids to be prone to getting sick easily because it hampers their growth. It's also heartbreaking for moms like me to see their children sick so we do everything to make sure they are healthy," she says.
Among the healthy habits that Mommy Peachy practices with her kids is giving them nutrient-packed meals every day. She prepares a balanced meal of grow, glow, and go foods such as meat, vegetables, fruits, and grains.
Her kids share her love for food, but among their homemade meal favorites are fried chicken, ginisang sayote, and sinigang na liempo with rice and with fruit choices of apple, orange, or banana. She also makes sure to supplement her kids' meals with a glass of Vitaminized Lactum 3+.
Together with 3 balanced meals a day, Vitaminized Lactum 3+ has essential immunonutrients like Vitamin A, C, E, Zinc and Selenium that helps build a strong foundation for kids' immunity, a reliable partner for moms in helping their children have a Panalo immunity. It also contains other important nutrients such as DHA, Iron, Iodine, Calcium and Vitamin D which help provide nourishment for brain and bone development.
Drinking Vitaminized Lactum 3+ is also a big help for her kids as they do panalo activities at home. As a hands-on mom, she makes sure that her kids are not only enjoying learning from home with daily worksheets and arts activities but also engaging them in fun physical activities and simple exercises to help strengthen their bones.
She adds, "Whatever vitamins and minerals are lacking in their meals, I believe that Vitaminized Lactum 3+ helps makes up for it. I've been giving Vitaminized Lactum 3+ to Twinkle since the quarantine started. I think it helped her because she is more energetic, curious, and she wants to do a lot of things at home!"
As families are preparing for the new homeschooling setup, Mommy Peachy gives a word of advice, "Keep everything interesting for the kids. Make the activities fun and colorful so they will be excited to do it."
She reiterates the importance of caring for kids' health and immunity at home, "Make sure the kids get enough sleep, physical activity, serve them 3 balanced meals everyday, and of course, give them Vitaminized Lactum 3+ for Panalong Immunity."
Lactum 3+ and 6+ also come in chocolate flavor that kids love so they can enjoy all the benefits of drinking milk but with the delicious taste of chocolate while helping strengthen their immunity with 3 balanced meals a day. Know more about how the Vitaminized Lactum 3+ can help kids at home by visiting Lactum's official website (https://www.lactum3.com/).