Dads have always been the source of our comfort and solid foundation, especially now that we are still in a pandemic. Many say that fathers are like boats who hold us back when needed and sail along when the current is right. But in reality, they are like a lighthouse who always makes sure we go the right way. This Father's Day, let us return all the love to the incredible dads out there.
This will be the second time we will be celebrating Father's Day during a pandemic, but on the bright side, it made each member of the family much closer than ever. To make it easier for families who want the convenience and safety to celebrate at home, Cravings has curated a special Father's Day set menu.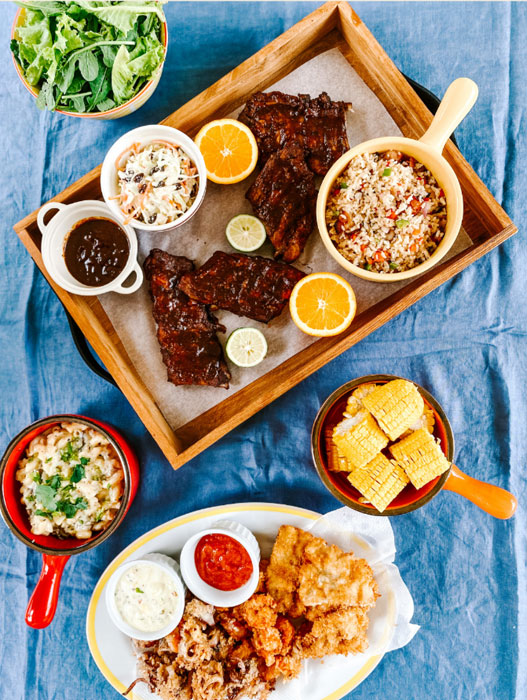 Treat your dad with Cravings Father's Day set menu, which is available from June 19 to 20 and is perfect for four to six persons. Cravings' take on this menu is a good ol' hearty American cuisine. The set menu consists of a slow-cooked Baby Back Ribs that is basted with tangy barbecue sauce and flame-grilled to perfection; Assorted Seafood Basket – golden fried Alaskan pollock, shrimps, and squid rings served with cocktail and tartare sauce; a creamy Truffle Mac and Cheese with mushrooms. For the sides, you have various options — from Coleslaw, Corn on the Cob, to Bacon Rice Pilaf. A feast is not complete without desserts. Cravings has prepared the crowd-favorite Frozen Chocolate Caramel Cake that comes in six-inch cans. 
From the bakeshop, you can order Cravings' Special Father's Day Cake – our rich and dense Chocolate Caramel Cake in 3 layers and 8 inch square. You can also opt for the regular 8 inch round Classic Chocolate Caramel Cake and to make it extra special, you can dedicate your own message.
Of course, one day will never be enough to honor and cherish how wonderful dads are but this coming Father's Day, sit down on your dining chairs, have a drink, and talk about the things you're most grateful for together with Cravings.
For pre-orders and inquiries, contact 0906-5114772 or (02) 8277-2436. Visit cravingsbakeshop.com or follow @cravingsphils in IG and @cravings.philippines in FB for more info.