Cock fighting or Sabong has been here in the Philippines since the Spanish occupation. Since then, it has been around and enjoyed by a lot of Filipinos regardless of status. When I was young, we live near a cockpit arena. I grew up with all the noise and cheers of a cock fight. Fast forward today, in this time of the pandemic, the arenas that were once full of cheers and dismay have been closed due to restrictions. In times of adversities, ingenuity arises. People like Atong Ang and associates found a way to bring Sabong closer to Sabongeros and afficionados alike. Anyone who has GCash can play E-Sabong via Pitmaster using their phones. For those who are not that tech savvy or just want to have cash on their hand right away, Pitmaster has established betting stations around the city. Betting stations are convenient way to place your bets and get your winnings instantly.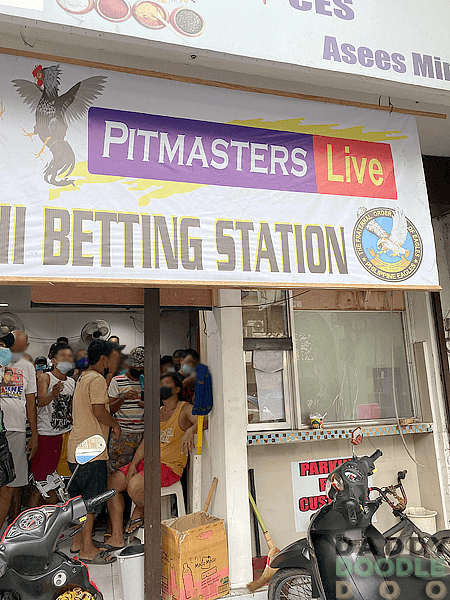 I am not a gambler, but I enjoy betting from time to time. I've only been to a casino once and played. And the experience was not enjoyable, I find casinos suffocating with the smell of cigarettes.
I wanted to find out why E-Sabong betting station are being flocked by a lot of people. The set up of betting stations are not the same, some have seats and offer food and drinks like a restaurant, others are standing only. But all of them have a huge TV where you can watch the fight and a counter where you place your bet.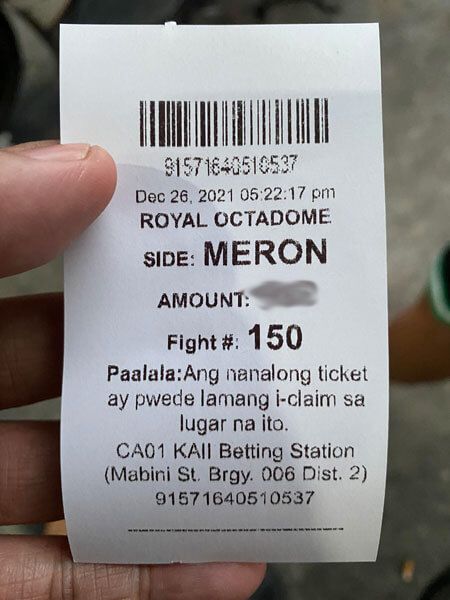 And so, the other day I went to a E-Sabong betting station to try it out. The place was full and standing only. There were 3 counters where you can place your bet and a huge TV in front. People were cramped at this small space that used to be a small grocery store. There were people smoking and some brought their own drinks and food. Clearly there are no pandemic protocol here. If there is, it is not being practiced. Betting is a simple process — you hand your bet to the person on the counter and say how much and which side are you betting: Meron or Wala. After that the person hands you a receipt indicating your bet amount and which side you betted. Once the fight started, I heard cheers and shouts which made me feel like I'm really inside a cockpit arena. Usually, cock fights last more or less than 1 minute, that's how fast you can win or lose. If you win you just hand your receipt to the person in the counter, then they will hand you your winnings.
I only bet once and lost then I went home and took a shower immediately.
All in All, my experience was nostalgic I felt I was again inside a cockpit arena with all the noise and the smell of the person next to you. All that is missing are the smell of chicken poop and the noise they make. Past times are there to entertain us. They are there for we enjoy them. If you are not enjoying anymore then there's nothing left to do but leave. Here's a tip, only gamble money that you can afford to lose. Money you will not cry about when it's gone. If you have no money like that then don't gamble. I also have this rule: bet once, if you lose, go home and don't bet anymore on that day.
I did not talk about E-sabong license or whether it is good or bad because I leave that at the hands of our government and to you who voted for them.