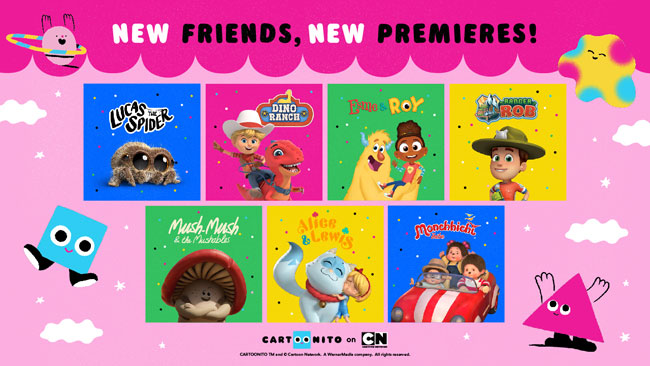 CARTOONITO HAS ARRIVED 
It's time for youngsters to laugh, play and learn with a brand-new selection of shows every morning on Cartoon Network. Now available, Cartoonito offers a modern approach to programming for youngsters aged 2-5. It's a space for them to experience belly laughs and draw outside the lines, and where every show is designed to support each child's unique potential.
This is achieved with an educational framework called "Humancentric Learning". Designed by early childhood education expert, Dr Laura Brown, the curriculum features four pillars: Creativity, Caring, Curiosity and Courage. The brand aims to inspire kids to use their imagination, to learn from their mistakes, and to treat others with empathy and respect.
For example, in CGI-animated Lucas the Spider – based on the viral YouTube hit – curious jumping spider Lucas always demonstrates kindness and perseverance in his many adventures.
Other shows include :
Baby Looney Tunes
Dino Ranch, Monchhichi
Alice & Lewis
Ranger Rob
Mush Mush & The Mushables
Sesame Street-inspired Esme & Roy
They form a line-up that celebrates individuality and originality, while championing creativity, compassion and inclusion. Many of these shows – in addition to Sesame Street – are also available on the streaming service HBO GO.
Also new to audiences are Cartoonito's very own stars. Meet Nito, Glob, Itty and Wedge. They love exploring the world and learning new things, and they'll always be hand to guide viewers through in between shows.
In the recent weeks leading up to the launch, families in Asia were tasked to play hide and seek with the cute TV mascots, who popped up in well-known locations around the Philippines. Cartoonito has downloadable activity sheets and games available on its website, as well as an awesome Augmented Reality filter (launching mid-April) that encourages kids to dance along with Itty and be courageous and creative.
Tune into Cartoonito on Cartoon Network every morning at Cignal: Ch. 74 (SD), Ch. 220 (HD), or Sky Cable: Ch. 43 (SD), Ch. 178 (HD). Find out more using #CartoonitoAsia, and at CartoonNetworkAsia.com/Cartoonito and @CartoonitoAsia on Facebook and Instagram.