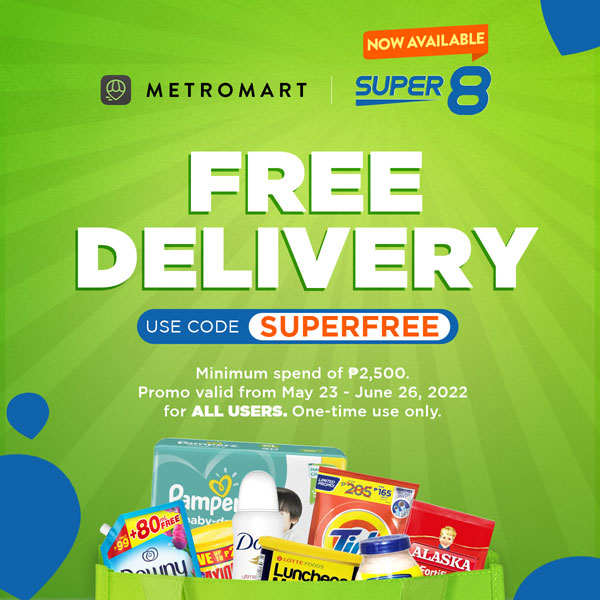 Great News from MetroMart the #1 online grocery delivery platform in the Philippines. MetroMart now adds Super8 Grocery Warehouse (Super8) to its leading supermarket partners.
Starting this May 2022, customers may shop from Super8 Grocery Warehouse on the MetroMart mobile app and website for a wide range of grocery needs like frozen and dry goods. Shoppers can enjoy the same, affordable in-store prices on groceries from Super8, and avail of convenient online delivery from MetroMart, making it conducive for retail traders, resellers, or budget-savvy buyers.
The Super8 branches available this month include Makati Square, Masinag, Sucat, Muntinlupa, and Ortigas Extension, with more locations coming soon.
New and Existing Users of MetroMart can also get an exclusive discount when shopping and ordering from Super8 Grocery Warehouse. Use the code SUPERFREE to get FREE Delivery for a minimum spend of ₱2,500. Promo runs from May 23 to June 26, 2022, and valid for one-time use only.
All customers of MetroMart also have a wide selection for modes of payment on their online shopping. These include Cash on Delivery, via e-wallet through GCash, or via Debit/Credit cards with leading banks nationwide. Even more promos and discounts will be available through the different modes of payment availed by the customer!
"With the addition of Super8 Grocery Warehouse to our platform, so many more Filipino families now have access to convenient, affordable, and a wider variety of options in their online grocery shopping from the MetroMart mobile app and website. We are pleased to announce this new partnership with a great brand, joining our ever-expanding MetroMart family." Stefano Fazzini, CEO and co-founder of MetroMart, said. "Watch out for more updates on even more new supermarket partners and specialty stores, new locations throughout the Philippines, and lots more discount deals from MetroMart this 2022."
"We're happy and excited to join the MetroMart network, and make Super8 Grocery Warehouse even more accessible for Filipino communities and entrepreneurs." Armand Mendoza, Business Group Head of Super8 Grocery Warehouse, said. "We are able to serve our customers better and further with an online delivery service like MetroMart, that also believes in giving exceptional service for our amazing customers."
MetroMart is the #1 online grocery delivery service in the Philippines. Our grocery partners include Super8 Grocery Warehouse, Robinsons Supermarket, S&R Membership Shopping (with or without membership card), Landmark, The Marketplace, Shopwise, AllDay Supermarket, MerryMart and over 500+ specialty store retailers like PetExpress, Baby Company, Toy Kingdom, Toys"R"Us, National Book Store, Office Warehouse, Southstar Drug, and Marks and Spencer. Customers can order from their favorite stores on the MetroMart app and have it delivered to their door in less than 2 hours! For more updates on MetroMart, like and follow us on Facebook at https://facebook.com/MetroMartPH. Order groceries online or download the app via http://metromart.app.link/