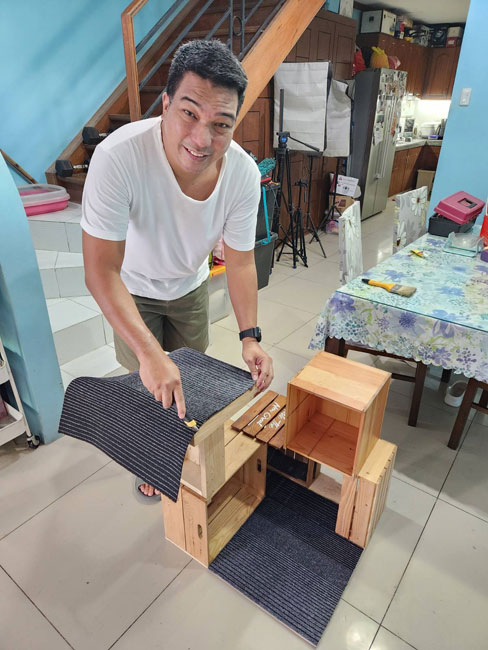 I always wanted to build our cats a cat condo. And since my wife has a lot of old crates from tokens, she received last year. I decided to recycle the old crates and make a cat condo by myself. At first, I wanted to purchase a cat condo, I found a lot of sellers on the internet, but the price was ridiculous. That's when I decided to try to DIY our cat condo.
I did some research first for the design of the cat condo. There are a lot of designs you can recreate but only a few used recycled materials, like crates. I decided just to wing it. I went online in Shopee to purchase the materials that I needed. The first thing I needed was a carpet, I got this cheapest one I could find. Then I went to local Hardware store to purchase a wood glue and rugby glue.
Before starting, I gathered all the materials and went through all the old crates. I asked my eldest daughter Purple to help me with the design. It was the perfect opportunity for us to bond. We stacked up the old crates that we choose and rearranged them a couple of times to look for the best design. Once we were satisfied, I started using the wood glue to attach the crates to their place. After letting the wood glue dry for couple of minutes, I started working on the carpet. I made measurement of the areas to be carpeted. Then started cutting the carpet using a cutter. After finishing cutting all the carpets, I used the rugby glue to attach the carpets to the wood. Then let it dry for a couple of minutes, Finish. We were happy to see the outcome of our hard work.
Our cats were curious and immediately came closer to investigate. After finding out it was safe, they loved it. Now our cats hangs out on the condo and sleep on it.