Promo event with True Value and Handyman this Sept 24-26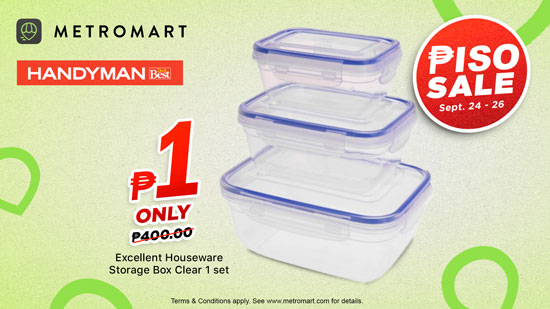 Power up your pre-holiday shopping spree with the True Value-Handyman PISO SALE, exclusively available via MetroMart app and website. From September 24-26, 2022, select items can be purchased for only  ₱1.00 when you order and get it delivered via MetroMart across select branches of True Value and Handyman.
The tandem PISO SALE of True Value and Handyman will have various items available within a scheduled time per day, and the promo can be availed until supplies last. The selections include kitchen tools, different food storage containers, storage solutions, and more. The first 200 orders from True Value and Handyman will also get FREE Delivery when they meet the minimum order spend.
HANDYMAN
DATE                        TIME                                                  Product Name
Sept 24,2022       9AM – 2PM        Home Essentials Ribbed Glass Oil and Vinegar Set (1 set)
3PM – 8PM        Core Home Mini Bamboo & Silicone Utensils Set (1 set)
Sept 25, 2022      9AM – 2PM        Sistema Rectangle Klip It Plus 1.49L
3PM – 8PM        Sunnyware Shoemate Shoe Storage Box Medium – 1 pc
Sept 26, 2022      9AM – 2PM        Excellent Houseware Storage Box Clear – 1 set
3PM – 8PM        Good Cook Bottle Opener 1pc
TRUE VALUE
DATE                         TIME                                      PRODUCT
Sept 24, 2022      9AM – 2PM        Entrance Mat Scraper
3PM – 8PM        3 Gang Wall Switch
Sept 25, 2022      9AM – 2PM        Arredo Microfiber Sports Towel – 1 pc
3PM – 8PM        Omni Universal Adapter w/ switch 10A
Sept 26, 2022      9AM – 2PM        Mighty Bond Pioneer Xtreme
3PM – 8PM        Micro One 3-In-1 Wash Mitt Large
"As all Filipino families gear up for the holiday season, our MetroMart family wants to provide these amazing deals and discounts, working together with our merchants and partners. In our own way, we help bring the Christmas celebrations, plus the spirit of giving and family togetherness, to fruition." Stefano Fazzini, CEO and co-founder of MetroMart, said.
The True Value-Handyman PISO SALE promo is applicable to New and Existing Users of MetroMart. A min. spend of ₱2,000 is required in order to avail the 1-peso sale items. Only completed checkout of orders within the sale period can avail the discounted items.
New to MetroMart? Get a ₱200 discount for a minimum order of ₱2k. Use the promo code "MMNEW" on the MetroMart app or website upon checkout. This is applicable across all stores and supermarkets for New customers, valid for one-time use until October 16, 2022.
MetroMart is the #1 online grocery delivery service in the Philippines. Our grocery partners include  S&R (with or no membership card required), Robinsons Supermarket, Landmark, The Marketplace, Shopwise, All Day Supermarket, Merrymart, Super8 Grocery Warehouse, Ever Supermarket, UltraMega Supermarket, and over 500+ specialty store retailers like Pet Express, Baby Company, Toy Kingdom, Toys"R"Us, National Book Store, Office Warehouse, Southstar Drug and AllDay Rx. Customers can order from their favorite stores on the MetroMart app and have it delivered to their door in 2 hours! For more updates on MetroMart, like and follow us on Facebook and Instagram at @metromartph. Order groceries online or download the app https://bit.ly/DownloadNowMM