Being away for 4 years was heart breaking for me I learned that we can never bring back Time even if we earn a ton of money. As a Daddy spending time with my family is one of my greatest treasures in life specially spending time and watching my eldest daughter learn new things and meet new people.
Having a great time with my Family and learning about wellness particularly in the food that we eat was an opportunity we were not going to miss. Robinsons Supermarket gave us this opportunity to experience fun while on the "Route to Wellness".
Embarking on a journey towards health and wellness entails an abundance of great discoveries along the way. And as Robinsons Supermarket (RSC) continues to strengthen its commitment to get everyone on board the healthy and dynamic lifestyle, it lays down a path filled with fun and excitement, through the second phase of its "Route to Wellness" campaign—the "Learn" promo.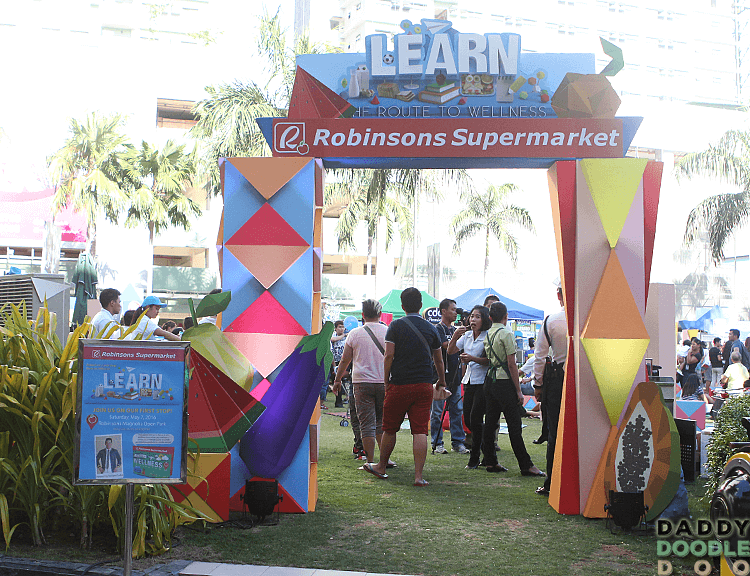 RSC launched the Learn promo at the Robinsons Magnolia Open Grounds via an origami-themed event. Media guests were treated to informative and engaging booths with activities that focused on brain food essentials, its benefits to health and wellness, and how one can apply these in real life by mastering a habit of picking smart, healthy food choices.
As part of the Route to Wellness campaign, the Learn promo will continue to provide customers the chance to avail of Wellness Passports at any Robinsons Supermarket—valid all year round, without any purchase requirement—for opportunities to win wellness rewards.
Customers can fill their Wellness Passports with stamps awarded for a minimum Php3,000 single receipt purchase, inclusive of Php500 worth of products from any of the participating brands: Nestle, Mead Johnson, Wyeth, Johnson and Johnson, Splash Corporation, CDO Foodsphere, and San Miguel Purefoods, among others. With each stamp, a cardholder can also be rewarded with a thermal lunch bag.
The Route to Wellness 'Learn' promo will run from May 1 to June 30, 2016 with on-ground caravans in Robinsons malls nationwide, while the two remaining promos—'Celebrate' and 'Give'—will run from August 1 to September 30 and November 1 to December 31, respectively.
RSC's Route to Wellness campaign is the foundation of its promise to fuel and bring healthier food options and alternatives closer to Filipinos in their journey towards health and wellness. So get your Wellness Passport now and join the adventure by participating in exciting and rewarding year-long promos. Like and follow the official Facebook page www.facebook.com/RobinsonsSupermarketOfficial or visit the official website at www.robinsons-supermarket.com.ph to stay updated on the activities in store and learn more about the #ILoveWellness campaign.