Being a daddy means having the right to be over protective sometimes and when you're a daddy you tend to become a control freak. You know,  micro managing everyone in the family except mommy of course (don't even dare or else).
Now hygiene is on the top of our priority right now that we have a two-year-old in our Family who tends to taste everything she can get her hands on. We always have something we can use for cleaning and this should be safe to use and reliable. With a lot of brands out there, you as a consumer have a choice to choose the best product. For me, I always make sure to check the quality of the product and also the values of the company.
As a daddy you check every surrounding and every little thing, you double check and then you triple check. Make sure you buy right, the right product needs to pass your strict quality check and bang for the buck check.
SANICARE offers a lot of products for personal, kitchen, bathroom and baby hygiene that I find have the right price with high quality.  All of these products are made from 100% virgin pulp, has no artificial whitener and is elemental chlorine free. It is hygienic and safe — perfect for our family to use.
We use Sanicare in our bathroom; they have this ecolayer bathroom tissue that is environment friendly.  Sanicare also has this toilet seat cover that's  perfect when going out.  It helps you get protected and safe even if you're using a public toilet.
In the kitchen, we use Sanicare Paper Towel which is super absorbent making it perfect for spills and for getting excess oils from food.
But what I really like about Sanicare are their line of personal and baby hygiene products.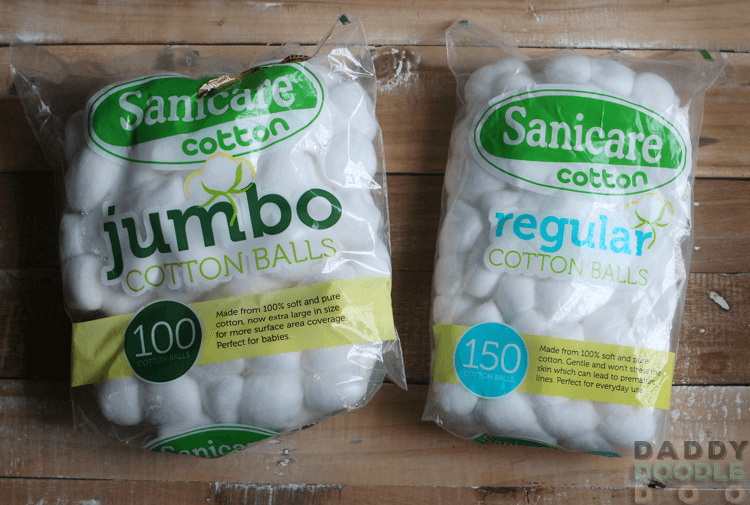 I use their regular cotton balls for facial cleansing and sometimes for putting antiseptic in wounds. You can really feel that is made from 100% pure cotton that is soft on your skin …. just perfect for sensitive skin. It's gentle and won't stress the skin which can lead to premature lines. Perfect for everyday use.
While Sanicare Jumbo Cotton Balls is also used for cleaning. Just a tip: after opening, transfer them to a dry container with lid for easy access.
Sanicare also offers Cleansing Wipes which is perfect for people on the go and parents like me.  It's soft and gentle on the skin but very durable for thorough cleaning. Enriched with Aloe vera and Vitamin E but alcohol and paraben free it is safe for children, lightly scented refreshes while cleansing.  Our eldest always takes this when she goes to school, I always know that if she needs to wipe something clean, she always has Sanicare Cleansing Wipes on her bag. As a parent, I know that she is safe from bacteria and germs.
If there's one thing you will always see in our car, that is Sanicare Facial Ttissue. It is soft and durable with its 3 ply, very useful to have in handy. And because it has no artificial whitener and is elemental chlorine free, it is perfectly hygienic and safe for your family's use.
For our Baby Twinkle:  Our baby's hygiene is very important because it is our first step in preventing our baby from getting sick. So we use Sanicare Baby Underpads when changing her Diaper at home, she finds it comfortable to lie down on after her bath because it's soft and dry. It has a leak proof barrier which so much helpful for "accidents" when changing diapers.  Sanicare Underpads are always part of our Baby bag because you never know when or where you'll be changing diapers. I find it especially helpful when we're changing her diaper at the mall baby changing table.
Of course, together with the underpads is Sanicare Baby Wipes. It is soft, refreshing and durable perfect for those tedious cleaning. I love using this product because it is tough but gentle on the skin. It looks and feels like a towelette.
It helps us thoroughly clean our baby's bottom. Because of its durability, it is perfect for those hard to reach areas. And because it is Sanicare, I know that it is alcohol and paraben-free, has no perfume, and gentle on the skin  perfect especially for skin as sensitive as our babies'. I believe it gives us value for money because of its toughness and durability, you can feel the cloth like texture for that thorough cleaning .
Sanicare Cotton Buds has two varieties. We use the mini cotton buds in our baby's nose. It combines softness with durability making it safe enough not to damage the inner lining of her nose that causes bleeding.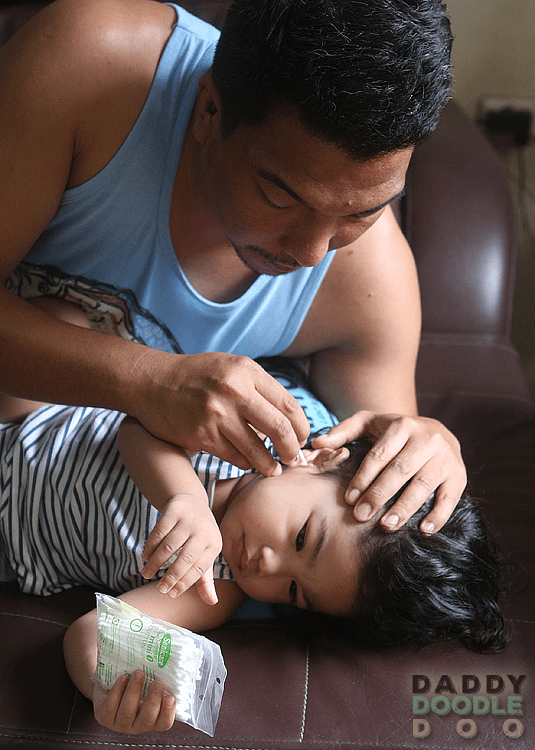 I tried using the mini-cotton buds on Twinkle's ears but I find that the large cotton buds is much safer to use because of the safety rim that acts as a stopper and limits penetration to prevent ear drum piercing.  No need to worry because the cotton stays in the bud no matter how many times you twist and turn it. Our youngest loves getting her ears cleaned because she feels ticklish every time. I can tell that she feels how soft the cotton is. Well, what can I say ? It's made of 100% cotton, that's why.
Sanicare is everything they say they are, a perfect hygiene partner for you and your family.
To know more, drop by Sanicare Facebook Page.