Our second day in Taiwan was greeted with a very cold, wet, and windy weather. Twinkle came prepared for the worst weather but was in a hurry to leave the flat.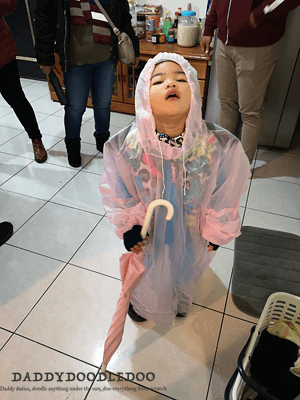 We already have an itinerary for the day but what we did not anticipate was the weather. What we can do was just hope for the best and keep our adventurous spirit alive.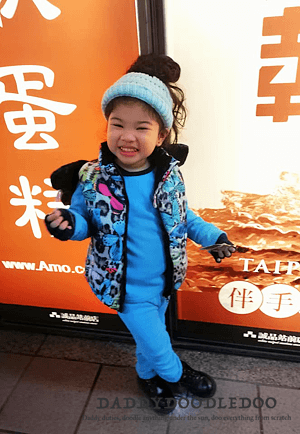 MRT station opens at 6 AM we needed to catch the first trip to get to our destination on time.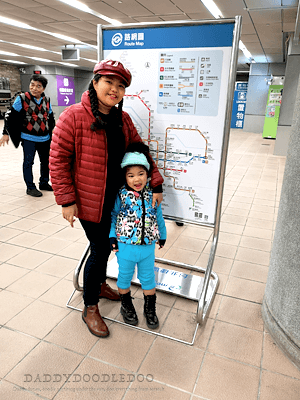 Our destination was the Klook Double Decker bus tour.This  will bring us to all the tourist destination in Taipei. You can book this tour ahead of time online. My understanding was that the bus goes to this famous tourist spots then you can either go down or not. if you go down, you tour the place and wait for another bus that will arrive every 30 minutes. If you don't go down the bus, you go to the next destination. The bus has two lines red and blue and they have different routes that they follow. Sometimes those routes interject with each other. The jump off of both routes are at Taipei main station where all the MRT lines connect.
When we arrived at the jump off, it was still raining. Getting to the Main station from where we got down from the MRT was hard. There were a series of under ground passage that connects all the MRT lines. You have to have a good sense of direction for you to find it.
Finally the bus arrived with a large logo of Klook printed on the sides of the bus. There were already a lot of people waiting in line, plus it was raining hard and the waiting area for the Klook bus tour does not have any cover or protection against the rain and wind. My impression was, if you look at the bus outside it was a big Double Decker bus but when you hop insid,e the space is small and only a few people can seat inside the lower deck. Just add couple more to that number and that what fits the second deck, not a lot of people. We hop on the blue line which at the end goes to the famous Taipei 101.  The bus went on its way, there was a recorded voice playing that tells you all the famous tourist spots while the bus pass by. Apparently the bus does not stop at all the tourist spots, only the most famous ones. So we decided to go down The Grand Hotel, a famous hotel in Taiwan where presidents of other countries stay when they are in Taiwan. It has a massive lobby with matching massive staircase.
This is when I notice that there are a lot of tourists that converged at this destination. Every ten minutes, a bus arrives  and  it's full of tourists. I'm guessing a lot of them are from main land China. The wind outside was getting stronger and the rain as well. We decided to cut the tour and just go back to the flat where we were staying.
On the way back we found this really cool Japanese kiosk that sells this neatly pack sushi. They look delicious and can easily be consumed on the go.
Finally back a t the flat after resting our feet and changing our already wet clothes. Our local Filipina friend told us about a night market near where we were staying so we went to check it out and get something to eat.
After a fifteen minute walk to a much more better weather, we arrived at the night market. Luckily it was located in a large complex that has roof but because of the weather some of the stalls were not open.
But we found this kiosk the sells Crab snack on a crab shell and large octopus tentacles on a stick. The crabs are half cooked already before it was grilled then finished by blow torch.
Same with the octopus, it was big. Even bigger that Purple's appetite, so we all shared it.
My sister in law bought chicken gizzard and pork ears plus caramelized tofu and pork blood.