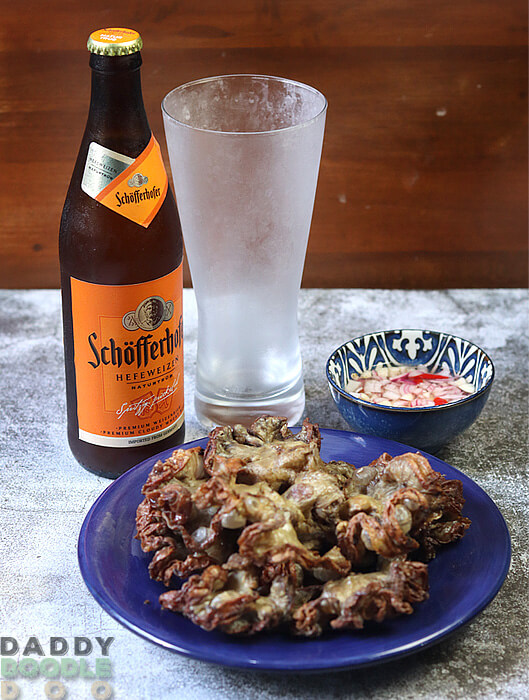 Last week I tried my first Schöfferhofer Hefeweizen German Wheat Beer. I am not a professional beer drinker so anything that I say on this article is only based on my opinion.
Origin
Schöfferhofer Hefeweizen first brewed in 1978 by Mainzer Schöfferhof in Mainz, Germany. They also produce the first grapefruit flavored wheat beer.
Taste
Schöfferhofer Hefeweizen taste slightly bitter with hints of banana, cloves, and spice. You can also smell a slightly floral sweet aroma. The yeast sediment also leads to the "cloudy" nature of the beer.  With its elegant, vibrant and smooth finish I would be drinking it again in the future.
Pairing
I paired Schöfferhofer Hefeweizen with a traditional Filipino beer chow Chicharon Bulaklak. Chicharon bulaklak is part of the pork intestine — deep fried and salted. It was okay to pair it with Schöfferhofer Hefeweizen because of its saltiness. But I would like to try to pair it next time with Tuna Sashimi. I am going to update this after to tell you the result. I also recommend to pour it in chilled beer glass. Slightly tilt your glass while pouring slowly then give the bottle a slight back and forth motion at the end.
Here is the recipe on how to make Chicharon Bulaklak.
Also check out my other drink reviews here. If you are not a beer drinker and prefer whisky, check out my Paper Plane article I highly recommend it.
The Price
Germans have always taken pride in their beer culture. And this does not come cheap, the price for one 500ml bottle is Php 385. The only problem is that it is not available in your local seven eleven or local grocery store. I purchased mine at The Marketplace. I know what you're thinking… the price is to much. You can probably get  two bottles of another German beer for the same price, BUT it is a worth to try it to find out why it cost that much.