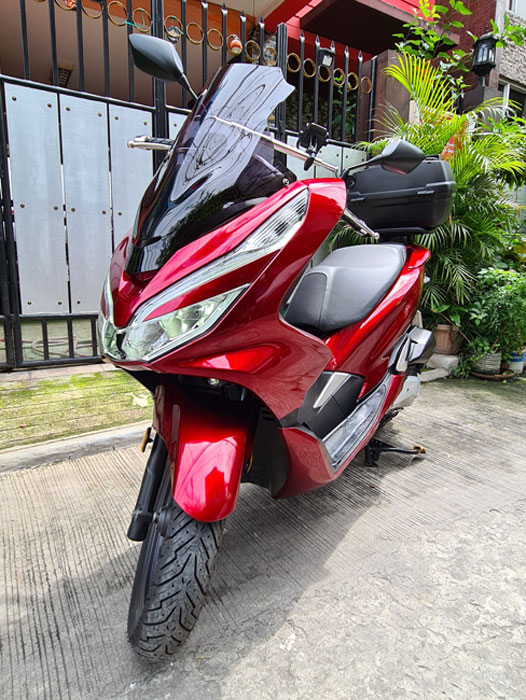 I purchased a motorcycle for my daily commute to save on gas money. It was not an easy purchased, there are a lot of pros and cons in riding a motorcycle. The most underlying factor that contributed to my decision was to save money, second was to save time. Let me explain. Gasoline prices going up non-stop recently, and it seems there is no sign of it going down soon. That is why using our car for my daily commute is not practical. Public transport is a cheaper option but here in the Philippines, public transport is like riding trough hell. Public transport takes a lot of time, time that you can spend with your family. I used to work in BGC and it took me an average of five hours a day going to and from work to our house in Caloocan. There is a saying here in the Philippines that when you take the public transport whether the bus, jeep, or train you go in fresh then you come out a warrior.
What I purchased
I purchased a scooter a Honda PCX 150. Before purchasing, I thought about my purpose of buying a motorcycle. I was going to use it for my daily commute and perhaps with my wife. So, I need a motorcycle that is economical, second comfortable for me and my wife specially on a long drive with traffic. I need a motorcycle that has enough power, I on the heavy side plus my wife as my pillion we needed something with enough power to overtake other vehicles when needed.
Economical
I settled with the Honda PCX 150. It has enough power for me and my wife and comfortable during long rides. Plus, it is very economical base on my experience and riding style I have reached 45 kilometers per liter, not bad at all. Using my scooter going to work to BGC now takes me just 45 minutes.
Safety
Riding a motorcycle safety should be your number 1 priority. My first investment was my helmet to protect my head during an accident. Second thing that I did was change the stock tires because it was slippery specially when the road is wet. I also purchased safety gears like gloves, knee pads, and elbow pads. The last thing I added was my compartment box.
Accidents happen all the time, always remember you are riding a motorcycle if something bumps you even a tiny bump can cause you flying. Before each ride I pray first for guidance, and to calm myself. There are a lot of drivers on the street and many of them are "kamote". When riding I always remind myself that my family is waiting for me to get home. I am not on the road to race, I am not on the road to fight, I am there just to past by and get home to my family.
Get Insured
During my years of driving, I have seen a lot of accidents on the road. I know that you can never be sure that an accident is never going to happen to you. To make sure that my family is protected financially if something bad happen to me on the road while riding, I purchased an insurance for me. There are a lot of insurance plans, but I found out that FWD has the best plan that fits my needs. Better safe than sorry, right. With just a few clicks on my phone I got insured with FWD.
Drive safe.