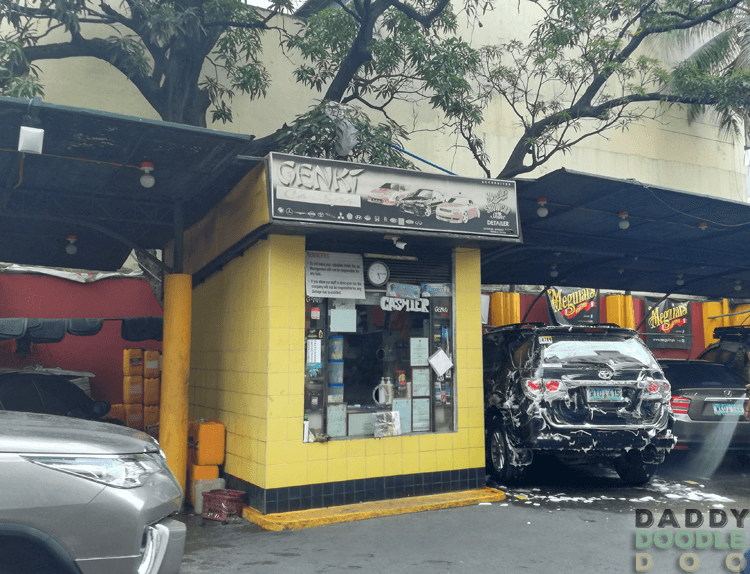 What is it with the weather this past few days? One minute the sun is scorching hot the next minute it is raining like there is a typhoon all of a sudden. And then after that the rain just stop and the sun is back up again. If you love your car as much as I do, you worry what this kind of drastic change in the weather will do to your vehicle. That is why is it is recommended that you wax your car at least twice a month to protect the paint of your car from the ravages of nature. If you don't have time to do it yourself, I would recommended this car care center in the heart of Banawe Quezon city — Genki Car Spa.
Genki Car Spa is located in Maria Clara street in front of Bugis Restaurant and near the Orthopedic hospital. It is the most efficient and reliable car spa that I have tried to date. They do car wash services plus waxing and detailing the interior and exterior of your car. I opted to try one of their packages that cost around Php1,200.00 which includes car wash and 2 coat wax. There are always a lot of people getting their car spa done in Genki so you might need to wait for couple of minutes. The good thing about them is that they have a lot of personnel so you don't have to wait for a long time.
When I arrived there, I park our car at the entrance and speak with their lady attendant who acts like your service advisor.  She will discuss with you the services they offer and once you pick the service you want, they take your keys and tell you your number in line.  If you need to wait or if you're lucky you'll be serviced right away. Genki has stream lined their process, there is a designated person whose only job is to drive all the cars to its proper place. They also have 2 persons working on each car from car wash through waxing.
What I notice about their service is that they really take care of your car. They observe first on the extent of the dirt I mean is it dirt from a month of neglect or just dirt that just happened a few days ago. If it is dirt from a month of neglect they don't just wash it with soap immediately, they prep it first. One of the service crew first sprays water all over while the other service crew is quickly right behind him spraying what looks like a detailing agent all around the car while gently removing the dirt that is dried up and molded into the paint. After the stubborn dirt has been prepped and removed, that's when they start the washing process.
When it's done washing, they move your car to the drying area where they dry and vacuum the interior.  After that they will apply the first wax. In this process they also take their time and make sure the wax is dry before polishing to achieve the maximum effect of the wax. As you can see from the picture they removed the plates of the car to make sure they don't leave any surface behind.
One of the things I also like about Genki Car Spa is that you can do a lot of things while they take of your car. You can have coffee and eat at their coffee shop located inside Genki or if you want to eat lunch, you and your family can eat at the near by restaurants. Bugis is just across the street while Shiok Shiok is just besides Genki. On the other side of Genki is Eat Fresh, both Bugis and Shiok Shiok are Singaporean restaurant while Eat Fresh is Hong Kong Street Food Restaurant. If you're not hungry, you can also have your
hair cut at Dapper Don's
just besides Genki as well. The lady attendant will get your mobile number and will text you once your car is finished. Don't worry about leaving your car with Genki, they don't cut corners in giving the best care for your car when you're not there. They provide complete and excellent service to each car they handle.
When I get our car cleaned at Genki, I am happy on the results. It's always shiny and clean inside and out.