Great News! Shakey's is now serving their Breakfast Bunch. As soon as we heard this, we immediately went to the nearest Shakey's still wearing our pajamas.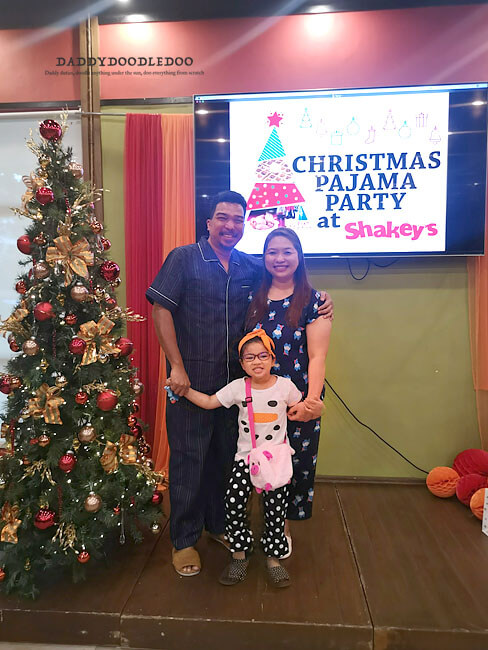 Shakey's just recently launch their Breakfast Bunch with a pajama party. We were lucky to get to witness this event and try Shakey's Breakfast Bunch for the first time.
With the Breakfast Bunch, you can have either plain waffles, waffles paired with bacon, or waffles paired with Schublig sausage. Each plate comes with Belgian Waffles topped with whipped butter and maple syrup.
Also included in the Breakfast Bunch are Breakfast Pizzas. You can choose between sausage, bacon and corned beef variants for your 6-inch regular thin crust Breakfast Pizza. Price starts at ₱169.
What's great about this is that SuperCard holders get a FREE refill of UCC Coffee or Mango Juice!
The Breakfast Bunch is available for dine-in at selected stores from 8AM to 11AM.
With Christmas is just around the corner, and for sure, there will be a lot of celebrations.
This year, Shakey's is making Christmas even more special with the Holiday Cheers Bundle. This is great for parties, reunions, or get-togethers.
In the Philippines, Christmas is also the time of the year to reconnect with love ones, friends or even past colleagues that we haven't seen for a long time. Saan pa ba maganda i-celebrate ang mga ito kung hindi sa favorite pizza place ng bayan.
With this bundle, you'll get 2 Large Thin Crust Pizzas, 5-pieces Chicken N' Mojos and a bottle of Novellino Rosso Classico wine. All these for just ₱1,199.
Visit the Shakey's website for more details at www.shakeyspizza.ph