Being a dad is hard work and you may find that you're very busy these days taking care of your loved ones and holding down a full-time job. The reality is that dads are busy people too and you need to find ways to take better care of yourself so you can be there for and take care of others.
The following self-care tips will help you refocus your time and energy so you can feel your best. You'll find that you're able to function better and will make fewer mistakes at work when you have a lot of natural energy and are well-rested. Let these ideas inspire you to carve out more "me" time in your schedule.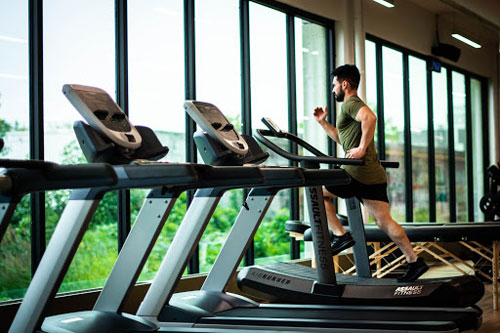 Exercise & Move More
You must take care of your physical health as a busy dad. It's not that you have to have the perfect body but you should try to stay in shape so you can remain healthy and well as you age. Exercise is a great way to burn off steam and manage your stress as well as shed unwanted pounds. It's not just about getting to the gym regularly but also moving more in general, especially if you have a sedentary job. It may help to track your steps and to take breaks often so you can get up and move around and stretch your legs.
Watch What You Eat
Another self-care tip for busy dads is to watch what you eat. It's easy to eat what's convenient or to eat out a lot if you're always on the go. However, it may be detrimental to your health and well-being over the long-term. Instead, make it a point to consume a healthy diet and cook with fresh ingredients. Make and bring your lunch to work so you're not tempted to eat out or eat the treats in the break room. Carry healthy snacks with you that will keep you feeling satisfied and watch your portion sizes.
Treat Yourself & Indulge in Fun Activities
It's important that you also find time for yourself and do what you love even when you're taking care of your family. Treat yourself once in a while and indulge in fun activities and hobbies you like doing. For instance, maybe you're adventurous and like being outdoors or getting in your truck and going off-roading along the beach. For this type of activity, you're going to want to check out and invest in 4×4 wheels that are reliable, stylish, and create a better driving experience for you.
Practice Work-Life Balance
You work hard and want to provide for your family. However, your health shouldn't suffer in the process. Therefore, it's essential that you practice work-life balance and set boundaries at the office and at home so that you don't overextend yourself. You must make to-do lists and prioritize your tasks and time so that you're able to get done all you need to do each day without feeling stressed out and exhausted. Ask for help when you need it and remember that tomorrow is a new day.
Organize Your Family Finances
You may have the responsibility of keeping track of the family finances as the dad of the house. It may help to get organized in this area and know what money you have coming in and going out each month. Financial stress can put a strain on your marriage and family life so it's in your best interest to get in front of it and take control of the situation. It's wise and beneficial to create and follow a budget and make sure you have enough money to pay your bills comfortably. Speak with your spouse to make sure you're both on the same page and working toward similar goals.
Talk about Your Feelings
As a guy and dad, you may think that it's taboo to discuss your feelings and talk about your emotions. However, it's essential that you do if you want to stay healthy and well. It can be burdensome and worrisome to carry around problems and issues and try to solve them all yourself. Therefore, try talking about your feelings with a trusted friend or your spouse. Open up and let them know what you're dealing with and see if they have any useful advice to offer. You don't have to always be the strongest person in the room or go through life alone. Spend time with people who are uplifting and encouraging and will support you through the ups and downs.
Spend Quality Time with Your Family
At the end of the day, your family and that you show them you care is what matters the most. They love you and want to see you more. Commit to spending quality time with your loved ones as a way to practice better self-care as a busy dad. Make time to partake in fun activities where you can all laugh together and enjoy one another's company. It may be that you set aside time in your schedule once a week or on the weekends to put all else aside and dedicate your full attention to your family members and kids. It's healthy for you to have these special moments with the ones you care about the most and you'll be happier for it.
Get Enough & Better Sleep
Sleep is another vital component of you being healthy and well and having a lot of natural energy to carry you through the day. One self-care tip for busy dads is to focus on getting enough and better sleep. Come up with and follow a relaxing bedtime routine that calms your mind instead of stimulates it. Find a good book you can read or take a warm shower to relax and get in the mindset of getting some rest. Configure your bedroom for optimal sleep by making sure it's dark enough, at the right temperature, and that your bedding and mattress is comfortable and suitable. The more and better sleep you get the better mood you'll be in and more you'll get done daily.