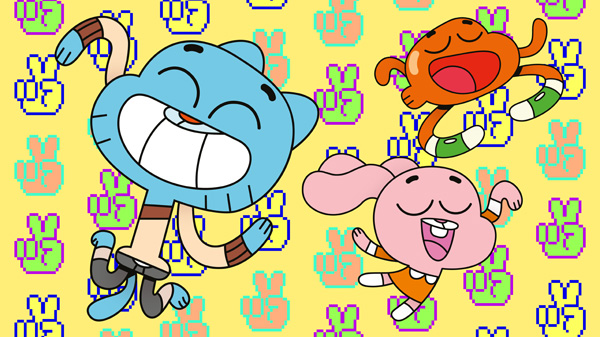 With International Day of Happiness just gone, there are loads of reasons to keep being a source of positivity. Everyone has the ability to spread happiness, especially kids! Join Cartoon Network on a mission to spread joy every day. Redraw your world and reimagine the way you spend time with your loved ones – simply by having fun and creating meaningful memories.
Keep celebrating happiness with these tips from your favorite Cartoon Network superstars.
Hype up your homie like Finn and Jake from Adventure Time
Our best friends from Adventure Time always have a fun way with words, from singing songs to making stuff up! The simplest way to make someone happy is to just say how you feel.  By challenging yourself and your friends with word play, you can expand your vocabulary, creativity, and it even helps with memory. Spread happiness and have a mathematical time by coming up with unique ways to tell your friends you appreciate them.
Steven Universe says to share your snacks
Did you know that sharing can cause the release of oxytocin, a hormone that increases feelings of well-being? So whip out that extra Cookie Cat ice cream in your snack pack and  share it with your friends. There is nothing sweeter (or cooler) to do something that brightens up someone's day.
Take a page out of The Amazing World of Gumball and draw new adventures
When Gumball and Darwin find Sarah's comic book of them, they spend the day recreating the amazing adventures she has drawn up for them, no matter how silly they may be. Redraw the world around you to make it whatever you want to be, and make sure to include your best friends along for the ride. Push the limits of your imagination and make it come to life – make masks, draw on cardboard boxes, and make blanket forts for your amazing world.
Express yourself like the Jellystone! cats and dance away
 Why not try something that is both good for your body and your heart? Get up and move your body to show exactly how you feel. Even cats can dance in the new Jellystone! series! Better yet – get a dance partner and try to create your own routine. Nothing lifts moods up quite like breaking out a couple of moves – just like what our friends at the madcap little town of Jellystone do.
Stick with your family – just like Grizz, Panda and Ice Bear
Just by spending some time beside each other, you can bond while building memories based on laughter and happiness. Have some family time like our bear-brothers and watch your favorite shows all together. Join our beloved We Bare Bears trio as their younger baby selves in the Cartoon Network original series We Baby Bears. Here we follow their adventures as they search for a place to fit in – and where they learn that home is wherever you are, as long as you are together.
Redraw Your World for more happiness
The whole family will enjoy hanging out together as they are greeted with vibrant colors and a new fresh look. Cartoon Network's reenergized channel experience called "Redraw Your World" treats kids to exciting storylines and awesome new shows to appeal to an even wider audience of boys and girls. Most of all, kids are encouraged to embrace themselves and what they can do.
Families can look forward to the cute bear brothers in We Baby Bears as they go on their adorable adventures or new shows such as Jellystone! starring the iconic Yogi Bear, Cindy Bear, Boo Boo plus other amusing characters. Meanwhile, beloved characters Tom and Jerry return with fresh shenanigans in Tom and Jerry in New York.
 Catch Jellystone!, We Baby Bears, and more new shows that will make the whole family laugh every weekend on Cartoon Network. Episodes are also on Boomerang, HBO and HBO Family, and available to stream on HBO GO.