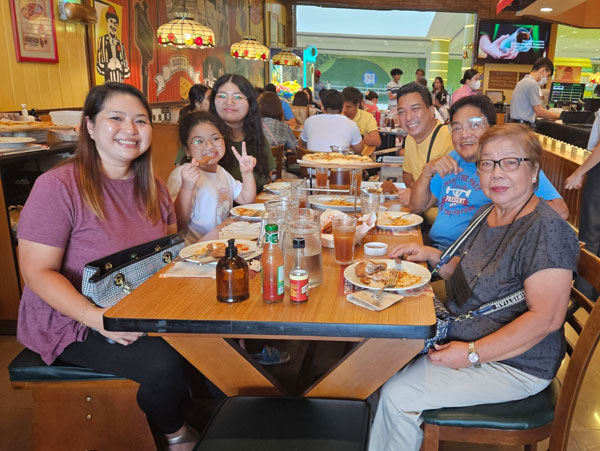 Every Sunday is family day for us. Last Sunday was no different, and since it has been very hot here in the Philippines, we decided to go to the mall and eat in one of our favorite pizza places, Shakey's. I look forward to family day; it is the only day in a week that I get to spend time with my parents and my kids. My parents live far from us, so I cherish every time we spend together.
We love eating at Shakey's with its family atmosphere, delicious food, and warm staff. The moment we stepped inside the restaurant, we were greeted by the inviting smell of freshly baked pizza. The cozy and vibrant ambiance immediately made us feel right at home. The walls were adorned with nostalgic memorabilia, taking us back to the good old days.
We ordered one of their famous family meals, which is perfect for our big group. The variety of options in the meal is what makes it so great. We had the freedom to choose our favorite pizza, and we went with Shakey's spinach and glazed bacon. The combination of the crispy bacon and the savory spinach was absolutely mouthwatering. The pizza had the perfect balance of flavors.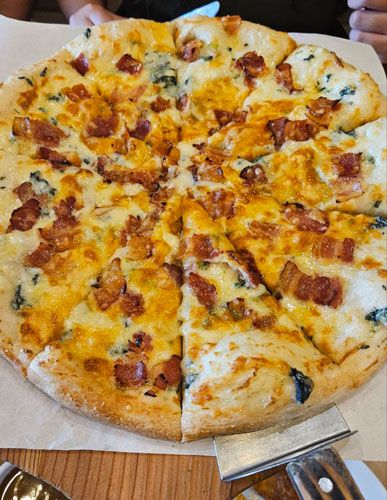 In addition to the pizza, our family meal also included a generous serving of Shakey's chicken and mojo potatoes. The chicken was crispy on the outside, yet juicy and tender on the inside – exactly the way we like it. The mojo potatoes were cooked to perfection, golden and seasoned just right. They were the perfect pair to the chicken, adding an extra layer of deliciousness to our meal.
To complete our dining experience, we also enjoyed Shakey's signature Skilleti and garlic bread. The Skilleti was perfectly cook pasta with marinara sauce. While the garlic bread was buttery, crunchy slices with just the right amount of garlic and herbs. It was the ideal side dish to complement our Skilleti.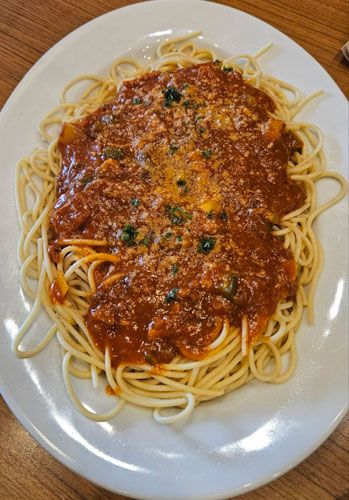 As we savored every bite of our meal, we couldn't help but appreciate the attentive and friendly staff at Shakey's. They made sure we had everything we needed and were always ready with a smile. It truly enhanced our dining experience and made us feel welcomed and valued as customers.
We had a great time bonding while eating our lunch at Shakey's. We talked about the kids, and their grandparents wanted to get updated about their school and everything. It was really nice to spend time with the family, and I truly believe that the ambiance of the place contributes a lot to the dining experience. Because Shakey's has this family atmosphere, it was really easy to feel relaxed and at home inside one of the busiest malls in the metro.
Leaving Shakey's, we were filled with contentment and happiness. Our family day had been a success, thanks to the wonderful food, welcoming ambiance, and quality time spent together. We knew that Shakey's would always be our top choice for our family outings, creating lasting memories and enjoyable moments.
If you're craving a delicious meal in a warm and inviting atmosphere, look no further than Shakey's. Whether you're dining with your family or catching up with friends, Shakey's is the perfect place to indulge in mouthwatering pizza, crispy chicken, and irresistible desserts. Come and experience the joy of great food and precious moments shared with loved ones at Shakey's.