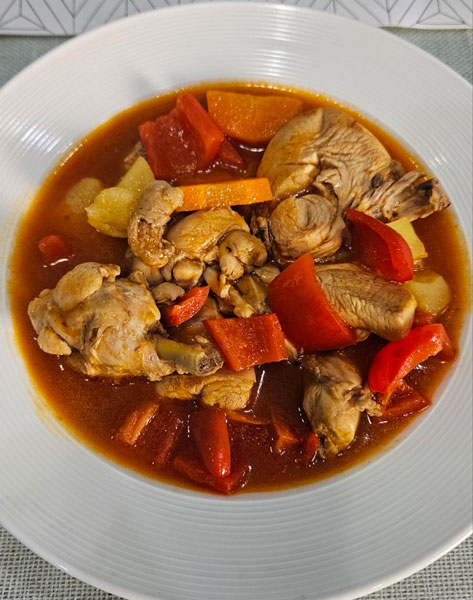 I remember helping my mother cook this dish when I was young. I was in charged of cutting the vegetables while she was in charged of cooking. I always enjoy eating this dish, it brings me back to my hometown Malabon inside my Mothers kitchen.
Now that I have my own family, I tried to recreate my mother's Chicken Afritada. Chicken Afritada is an easy meal to cook. It does not require to much planning. You can use whatever vegetable you have inside your refrigerator. Plus, Chicken Afritada is also a budget friendly dish, healthy too.
Ingredients and Preparation
Ingredients:
1 kg chicken, cut into pieces
2 tablespoons cooking oil
1 onion, chopped
2 bell peppers, cut into chunks
3 medium-sized potatoes, quartered
2 carrots, sliced into chunks
1 cup tomato sauce
1 cup water
Fish sauce to taste
Salt and pepper to taste
Instructions:
Heat the cooking oil in a large pot over medium heat. Sauté the onions until fragrant.
Add the chicken pieces and cook until browned on all sides.
Pour in the tomato sauce and water. Bring it to a simmer.
Add the fish sauce, salt, and pepper. Taste and stir well, adjust according to preference.
Add the potatoes and carrots. Cover the pot and let it simmer for about 30 minutes or until the chicken is tender.
Add the bell peppers. Cook for an additional 5 minutes.
Serve hot with steamed rice and enjoy!
Variations and Serving Suggestions
Chicken Afritada is a versatile dish that can be customized to suit different tastes. Some variations include adding green peas, hotdogs, or even pineapple chunks for a hint of sweetness.
Served with steamed rice it is a perfect dish for every budget conscious Filipino family. Tara, Kain na!!!