Indoor activities for kids should be fun and educational. As a parent I continuously look for fun activities for Twinkle, activities where she could learn through play. Twinkle has already been stuck inside the house because of the pandemic. It makes me sad to see her inside instead of playing outside with kids her age. I wanted to give her activities where she could develop her curiosity while still having fun.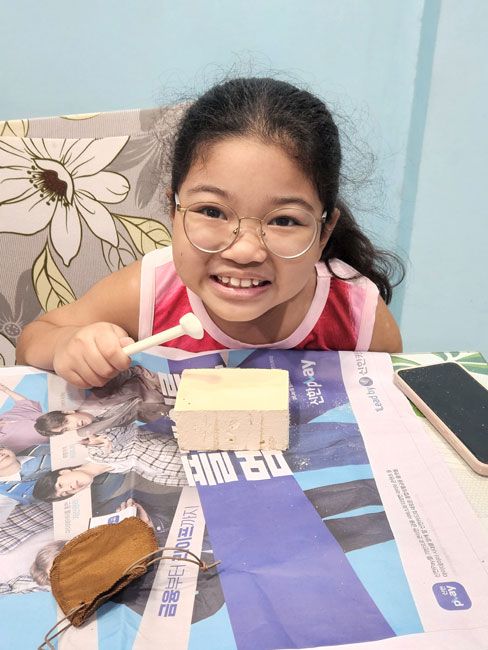 Kidzlabs
is a toy manufacturer that gets kids engaged in science from a young age by creating exciting kits that focuses on scientific experiments. Their products have won several international awards and have received positive reviews from parents and kids. We were already familiar with Kidzlabs, we purchased one for our eldest daughter before and she loved it. One time while we where at the mall we saw that ToysRus was on sale and some of the Kidzlabs product was also on sale. We grab the opportunity to purchased one for Twinkle.
Why we purchase
We purchased Kidzlabs Crystal Mining kit. The kit contains natural crystals of various colours and a cool digging kit. Crystals posses' mystic powers which could bring good luck and health. The kit contains a large plaster block, inside the block are the crystals. Twinkle used the hammer like tool that came with the kit to carve away the plaster to reveal the crystals inside. She was excited to find the crystals inside the block, so kept on carving the plaster. When the crystal was revealed, she was delighted her eyes glowing with joy. She then used the brush to polish the crystal. She repeated this process until all the crystal where revealed. Also inside the box is a crystal guide, it tells the name of all the crystals and their characteristics. There were also a pouch and a crystal display case. Twinkle put all her crystals inside the display case and wrote down their name. She was very proud of her accomplishment.
Verdict
Kidzlabs Crystal Mining kit was worth it. Twinkle enjoyed playing and also learned a lot about crystals.
Where to buy
Avaialable in any ToysRus store or in Amazon and in Shopee.
To find out more activities for kids at home read more from ME