Our third day in Taiwan and were not yet done. Next stop would be Hehuanshan mountain standing at 3,416 it is the one of the tallest peak in Taiwan. Hehuanshan mountain is one of the mountains they call snow mountain because the temperature at the top can get cold, cold enough to have snow. Living in a tropical country we do not get the chance to experience snow before. We wanted to find out how it is like to walk and play in snow.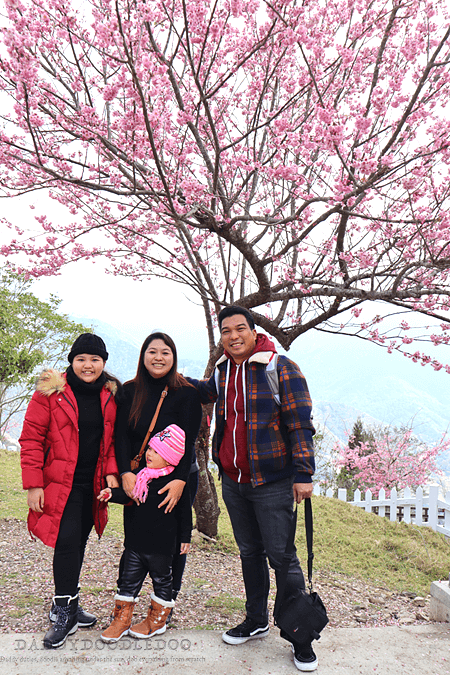 Hehuanshan mountain was a 5 hour drive on a narrow zigzag road, some parts of the road up are only one lane on a steep cliff. Let me tell you that this road is not safe if I knew about this I would not have allowed my family to go. Even our local Taiwanese friend told us that the road was not safe.
Before we reached the top of the mountain we stopped at the highest 7-11 store in Taiwan. We both our drinks and snack for us to eat once we get to the top of mountain. A 7-11 store in Taiwan is very different from a 7-11 store in the Philippines there are healthy food option in Taiwan like boiled sweet potato, boiled egg, yogurt and tea.
When we reached the top we were half disappointed because there were no snow on the mountain. Clearly the temperature was not cold enough. But it was still cold for us at around 5 ºC. We took some pictures ate our snack then proceeded to go down the mountain to our next destination.
Green green grassland was our next destination it is located at the lower part of Hehuanshan mountain. It is a sheep farm that caters to tourist. They charge an entrance fee per head including small children. The farm is huge and you can walk the entire farm and exit way down the mountain. We took some pictures of their cherry blossom trees at the back round and feed some sheep. After a few shoots we decided to call it a day for the travel back was long and some of our companions were not feeling well.
With the others taking their rest once we reached our flat. My wife and I decided to explore the neighborhood once again.To buy some food and also just to enjoy the cold weather.
We came across a lot of food vendors that sells Taiwanese food. There are a lot of stalls that offer fried food you can choose from a variety of choices a lot of which are entrails. We found this small shop manned by this two young couple. They sell  boiled chicken cut it up then you choose from a variety of green vegetable they mixed it all together in a bowl and add some sesame oil and some other liquid for the dressing I guess.
We also passed by a stall that have a lot of locals lining up to buy some soup. We decided to give it a try, there was a bit of language barrier good thing there was a menu with pictures in it.  It was a delicious and fun going around Taiwan and lot of the people can understand English and those that cant are patient and understanding.