Being a Daddy is tough and at the same time rewarding. Tough because you need to play different roles, as a husband, a father, a leader, decision maker, good provider, a friend, playmate and sometimes a ride. Playing all this roles can bring a heavy toll to your body. Taking care of your body is the first step to being prepared for playing all the roles as a Daddy.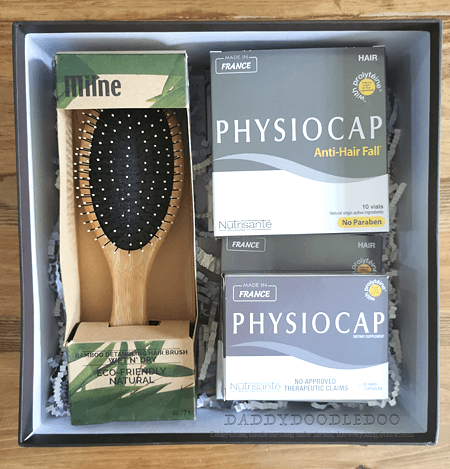 There's nothing truer than the saying, "Our hair is our crowning glory" – and this goes for both genders. Having a head full of hair is as important to men as it is to women. To women, it may be an important accessory of beauty, and for men, it adds to a sense of manliness and enhances their looks.
So for most people, the loss of hair can be a difficult experience. While it is a known fact that hair loss is an inevitable part of life-hair production slows down as we age. No one wants to be saddled with early baldness when you're only in the prime of your life. For men, this may manifest in a receding hairline while for women this can be seen with thinning and falling hair.
This is where Physiocap can help us.
Physiocap was created in France by Nutrisanté Laboratories and meets the most rigorous of health product standards as a GMP(Good Manufacturing Practice) certified pharmaceutical company. It is from the same manufacturer of Kilo Off. Already launched in over 40 countries, more than 8 million units have been sold.
It is an anti-hair loss system designed for men and women. Stimulate hair growth and put life back on your hair. They offer 2 products to help us:
Physiocap Hair Growth Supplement (30 capsules /box) with Prosilium horsetail extract and 7 vitamins/ minerals.
Physiocap Anti Hair Fall Hair Serum (Box of 10 serum) with Polytein to promote hair strength and contribute to fix hair to the scalp to help slow down hair loss.
According to laboratory testing, using Physiocap's simple system, you can witnesstangible results within 3-4 months of use. Independent testing has resulted at up to 121% hair growth. Physiocap has recommended the use of the products simultaneously for best results. Physiocap products are BFAD approved, made from natural ingredients, with high quality assured and no side effects.
After using the Physiocap system for a month I have noticed already less hair fall when I take my shower. It also gave me confidence in providing the best ride for my daughter when ever she feels like it.
At the end we all look forward in getting old. But with the help of Physiocap we can assure ourselves that we'll be old with a lot of silver hair on top of our heads.